Collingwood forward Mason Cox has spoken about the inspiration behind his breakout game in the 2018 preliminary final against Richmond.
The Tigers were reigning premiers and went into the clash as red-hot favourites to repeat their feat from the year prior, but had their dreams ripped away from them by Cox, who played the game of his life.
Cox took 11 marks to go with 15 disposals and three majors, with eight of his clunks contested, proving to be the difference on the night.
Recently speaking on the Dyl & Friends podcast, Cox revealed the motivation behind his stunning performance.
"There were plenty of people talking trash in the media," Cox said.
"I'm an AFLPA representative and that week they came in and it was myself, Darcy Moore, and Scott Pendlebury and these people came in to sort the memorabilia for the Grand Final.
"It was a couple of days before the game and they had to audacity to show us what it would look like and it had Richmond on it as 2018 premiers.
"I remember the audacity to show us that right before we were about to play them and thinking, 'f**k these dudes'. I was filthy about it."
Cox said that he wasn't feeling close to 100% heading into the do-or-die clash, but an epidural had him feeling close to his best again just in time.
"The week before, we played GWS. I played an absolute shocker," Cox recalled.
"I had a corky I got in the warm-up and I could barely run. I remember thinking 'if I get through this game I'll be lucky'.
"Before the Richmond game, I got an epidural in my back because my back and hamstrings were so sore I could barely kick a footy. I felt like a million bucks (after the epidural) and I was like 'hell yeah this is it, I'm ready to go'.
"It was one of those games where you just feel like you're in a flow state, you just can't do anything wrong. I remember people talking about the USA chants in the stands which was crazy."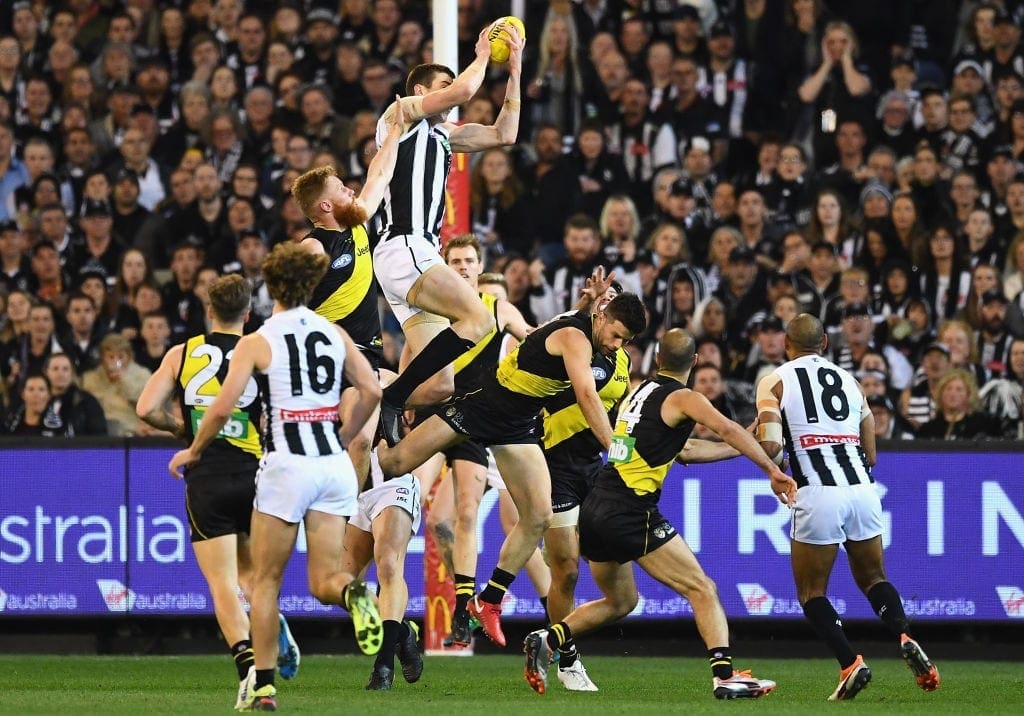 In the chat with former Carlton and GWS player Dylan Buckley, Cox spoke about a holistic moment shared with his mother post-game.
The Texan spoke about a post-game habit that he usually keeps for himself, and how sharing it with his mother had enhanced his memories of that special night.
"I've got a photo of myself at the race and after a lot of games I'll go up the race and just sit there and there's something amazing about it," Cox explained.
"I remember sitting there and no one else was with me, it was a spiritual moment for myself and this person came and put their arm around my neck and it was my mother. It was a pretty amazing experience to share that with her."
The Magpies failed to claim the 2018 premiership despite knocking the Tigers off their perch, with Collingwood and Cox falling to the Eagles by five points the following week.