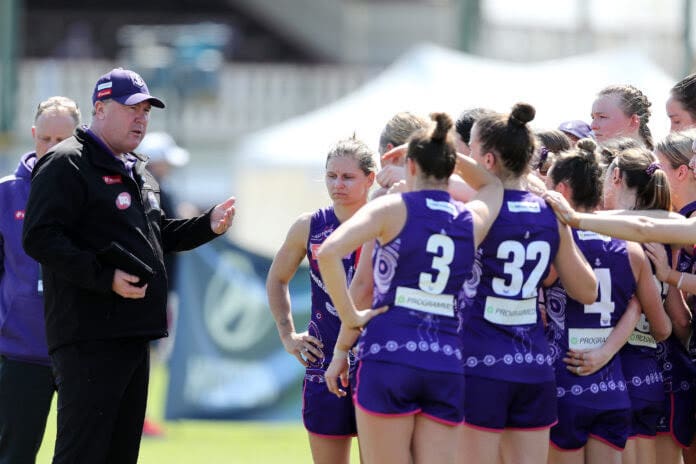 Recently axed Fremantle AFLW coach Trent Cooper has opened up on his departure from the Dockers, while revealing he is considering a number of options for the next chapter of his career.
Cooper was surprisingly not offered a new contract with Fremantle at the cessation of the seventh AFLW season despite his strong record with the purple club.
However, a campaign hampered by injuries and a drop in form saw Cooper's squad fall to their first non-finals finish under his watch and subsequently saw the club opt to part ways with the 48-year-old.
Cooper claimed the AFLCA's Coach of the Year Award in 2020, where the Dockers went undefeated before seeing the season cut short due to the COVID-19 pandemic.
In an interview with SEN WA, Cooper revealed he wasn't shocked by the decision not to have his contract renewed by the club, but didn't agree with Fremantle's call.
"I saw the writing on the wall fairly early on in the season, and then I actually pushed the club to let me know so I that I could be ready for other opportunities," he said on SEN WA.
"It wasn't a surprise; on the actual day it was – I wasn't expecting it on that day.
"I disagree with the decision. I think a lot of people do disagree with the decision. So it's an unpopular decision – doesn't mean it's the wrong decision, time will tell that.
"I thought I had a lot to offer the group.
"I definitely thought I had the full support of the players. We were really struggling and playing poor footy in the first half of the year. It could have gone pear-shaped at that point, but I thought the players dug in really deep."
Cooper, who took over the Dockers' senior coaching duties from Michelle Cowan in 2018, is now set to assess his options for the future and could make a return to the men's code should an opportunity arise.
While a confirmed call might not come for some time, Cooper has revealed there are several options he'll consider, both near and far.
"There's a couple of options open at the moment and I've sort of got to give myself a little bit of air to work out what the best thing to do," he said.
"Obviously, I was involved in the men's side of things ... so that's definitely of interest.
"Interstate, options are open there and I will definitely consider that."
Cooper amassed a record of 30-1-16 in his time with Fremantle.