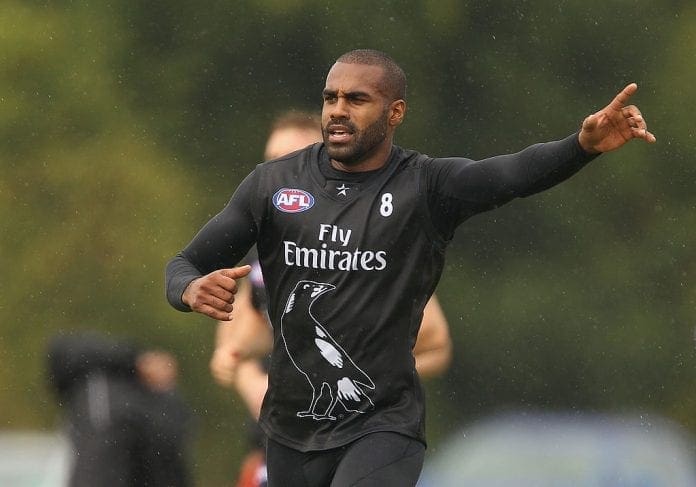 Former Collingwood half-back Heritier Lumumba has taken aim at his former club following a report that revealed systematic racism at the club.
The review was addressed by the Collingwood board yesterday after it was leaked to the Herald Sun, but many believe the clubs response missed the mark.
Eddie McGuire opened the press conference by saying it was "a historic and proud day for the football club" and insisted Collingwood were "not a racist club".
The investigation into the club was commissioned by Collingwood last year after Lumumba publicly slated the club's treatment of him and other indigenous players.
Lumumba said he was nicknamed "chimp" by the club during his tenure at the Holden Centre.
McGuire faced severe criticism after he addressed the media and no one came harder at the outgoing President then Lumumba himself.
The 2010 premiership player took to Twitter to release a statement.
"I'm grateful to all the people who have reached out to me in support – including CFC members and supporters – as well as all those who have challenged the Collingwood Football Club's bizarre response to their own report finding them guilty of systemic racism.
"It was painful to watch the club dig itself deeper into delusion and dishonesty at today's press conference.
"Eddie McGuire's inability to let go of the illusion he's constructed of himself does not serve the Club, the code, or the community. It's a pity his final year looks like it will be marked by yet another self-inflicted racism scandal.
"The report clearly states that during Eddie's tenure as CFC president, the club's racism resulted in "profound and enduring harm" to many individuals, families, & communities.
Lumumba took to the media on Tuesday morning to continue his criticism on his former employers.