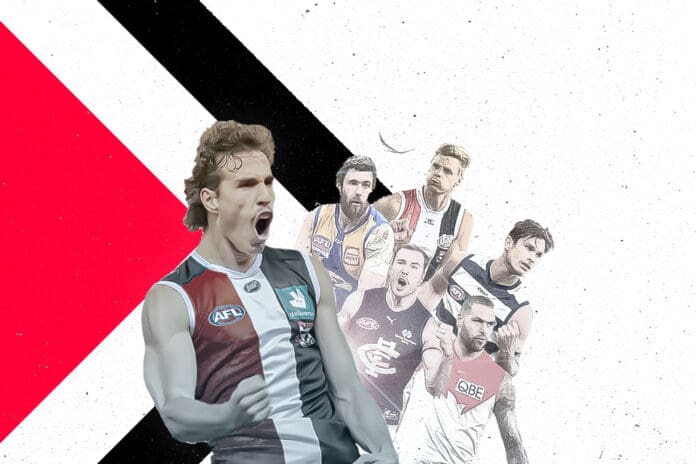 With a career best six goals against the Eagles on the weekend, many watching from the sidelines thought this was the moment Max King had finally arrived.
Since being drafted by the Saints at pick 4 in the 2018 National Draft, King has been watched closely both by Saints fans longing to see consistent September action and footy fans reminiscing on the days of dominant key forwards.
The Saints fell short, but Max King was amazing with six goals and eight contested marks 👀

Enjoy it all in under a minute. #AFLEaglesSaints pic.twitter.com/mipKOQNvvp

— AFL (@AFL) July 24, 2021
The Saints young gun has been under pressure from both the media and fans for his goal kicking accuracy in 2021, specifically after Round 9 when the 21-year-old kicked 1.5 against Geelong.
However, star forwards of the game traditionally take a little longer to develop than some of their teammates. When comparing to stars of now and then, King doesn't appear as just a prospect, his numbers already are an ode to his talent and potential.
In his 35 games so far, King has kicked 52.46. While on the surface, the numbers look wildly inconsistent, they are not at all unusual for a forward finding his feet.
MAX KING
Forward

St Kilda

2021 SEASON AVG

9.7
Disposals

4.6
Marks

1.9
Goals
Perhaps more importantly, the focus should be on King kicking 52 goals in under 40 games. At the same point in his career, current Coleman Medal leader Harry McKay had kicked 50.43. After years consistently averaging season hauls in the mid-twenties, McKay made the jump this year, kicking 52 goals from 17 games so far.
Nick Riewoldt, who wore the famous No.12 that King inherited and kicked a stunning 718 goals throughout his famed career, finished his second season with the Saints with 28 games and 24 goals. Riewoldt's third season, he kicked 30, the next, 67. Mind you it took Riewoldt a campaign in defense to aid his development as a key position player.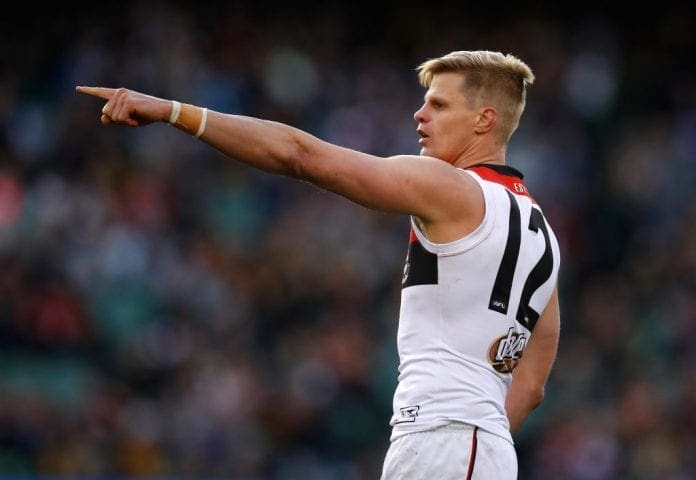 Eagles veteran Josh Kennedy kicked just 19 goals in his first 29 games, with those tallies split across two seasons at Carlton and his first year out west.
These forwards all have something in common, steady progression before their breakout season. King is not only on track to match these trends, but if his Round 19 performance is any indication, could have his breakout year sooner than expected.
The King twins often are compared, as they were throughout junior competition. Drafted at pick 6, after his twin, Ben has played 49 games for the Gold Coast Suns, picking up the Round 19 Rising Star nomination in 2019.
However, Ben has a full season over his brother after Max underwent a knee reconstruction early in 2019 due to suffering an ACL injury in his draft year.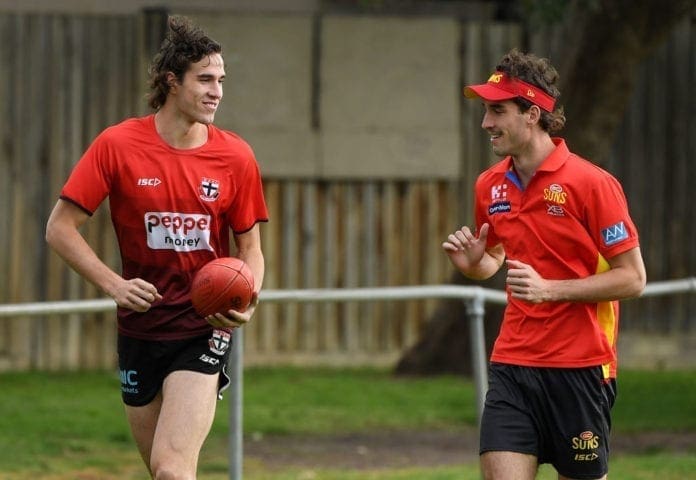 Remarkably, like their stature, the Twins' first two seasons are quite similar. Ben kicked 17.9 in his debut year (14 games) and 25.20 in his second (17). While Max, 22.20 (18) in his first season and 30.26 from 17 games so far in 2021.
Ben, in his third year, has already kicked 43 goals this season from 18 games in a Gold Coast side which has won just six games.
Standing at 202cm tall, Max's strength is his ability to take contested marks, finishing with eight against the Eagles in Round 19. In his career so far, Max has taken 72 contested marks, compared to Ben's 49 with 14 additional games.
Lance Franklin, widely considered one of the best forwards to play the game, picked up just 16 contested marks in his first 34 games. Riewoldt had 61 in his first 28 games and Tom Hawkins claimed 54 from his first 43 games.
With the continued focus on his wayward goalkicking, it is easy to forget that Max King is only 21, playing in his second full season for a club infamous for their own goalkicking inaccuracy.
It is easy to malign a player when they are spoken about so highly throughout their junior career and their breakout is so eagerly anticipated. With a little more consistency, that will come with time, King has the ability to take big marks and break games open.
The Saints have faith in their young gun, extending his contract through to the end of 2026. They have seen glimpses of what King is capable of, which could one day rival the best.
| | | | | | | |
| --- | --- | --- | --- | --- | --- | --- |
| Stats (first two seasons in AFL) | Max King (35* games) | Ben King (31 games) | Nick Riewoldt (28 games) | Lance Franklin (34 games) | Tom Hawkins (19 games) | Harry McKay (15 games) |
| Goals total (per game average) | 52 (1.49) | 42 (1.35) | 23 (0.82) | 52 (1.52) | 25 (1.31) | 24 (1.6) |
| Behinds total (per game average) | 46 (1.31) | 29 (0.93) | 20 (0.71) | 22 (0.64) | 15 (0.78) | 13 (0.86) |
| Marks total (per game average) | 134 (3.83) | 96 (3.09) | 204 (7.28) | 128 (3.76) | 84 (4.42) | 77 (5.13) |
| Contested Marks (per game average) | 72 (2.06) | 28 (0.90) | 61 (2.17) | 16 (0.47) | 23 (1.21) | 23 (1.53) |
* Max King as of Round 19, 2021