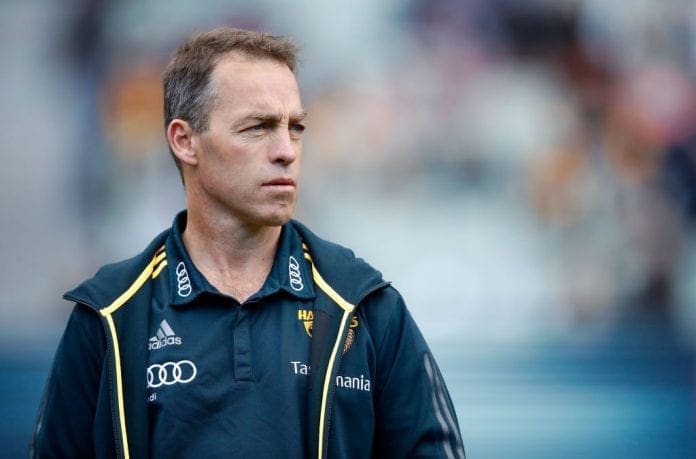 It has been an eventful off-season at Hawthorn to say the least.
Jon Patton was stood down for allegedly sending lewd photos to women on social media before being admitted to hospital to manage his mental health.
Tom Scully stepped away from the club to address his own personal problems before announcing his retirement earlier this week.
Hawks coach Alastair Clarkson has spoken out on both players' situations on SEN radio, stating Scully was "cooked" and simply had nothing left to give to the game at the highest level.
"As I was thinking about it this morning knowing I was probably going to get asked that question by you two this morning, your journey struck me as one that was pretty similar to Tom's, Tim (Watson)," he told SEN Breakfast this morning.
"You both started your footy journey in terms of professionalism at a young age.
"Tom didn't get drafted until he was 18, but if you actually know the lad and his family, you'd probably know he started preparing to be an AFL footballer when he was about 10 or 12 years of age.
"Most players in terms of the professionalism of the game really crank it up when they're 17 or 18, so by the time (Scully) gets to 29, a little bit similar to by the time you (Watson) got to 30 or thereabouts, he's just cooked.
"Cooked in terms of, whether he comes back like (Watson) did I'm not too sure, I don't think that would be the case, but he just got to the end of last year, now last year for all of us was a time of reflection and perspective and talk about that slogan 'expect the unexpected' … you've just got to work your way through these challenges and come out the other side better people, but it certainly has been a time of reflection just to work out what are the important priorities in life.
"Tom has gone through that process and we've worked with him closely over the last six to eight weeks to come to the conclusion that his passion just isn't in it.
"In this caper you have to be 100 per cent (in) and especially Tom, he's all-in or all-out and unfortunately it had to be all-out because he couldn't commit himself to what was required to continue on with the game."
On Patton, the four-time premiership coach said the outcome of the investigation into him sending inappropriate messages to women on dating apps would be chief.
However, Clarkson said it was important to take allow Paton to step back and for all the information to be gathered before jumping to conclusions.
"(His future,) that'll be determined by the result of the investigation. All we would say is these situations from time to time pop up and when there's an investigation that takes place, we just let that unfold," Clarkson said.
"In the meantime, because these are young men and because of AFL football, they're sheltered from the real world, and what they have to endure as young men, they're not equipped with the coping strategies and that's been the case with Patton, who's found himself on the front page of the paper.
"Now the investigation will determine right or wrong, but the scrutiny that some of these footballers are under, he's found himself in a space where he just needed some time away to reflect.
"The investigation will unfold and we're working with Paul Connors and his management just to make sure his wellbeing because when the scrutiny comes like this, I remember when Luke Hodge got done for a DUI right on the eve of the 2015 finals series, the calls from the football public that he should get sacked as captain and should be stood down and all sorts of things, you've just got to slow down and take a breath.
"Let's absorb all the information coming our way, let the authorities make the decision and in Hodge's decision it was the law, we didn't need to impose any other penalties, it was the law that imposed the penalty.
"Then there's the public scrutiny and in a lot of instances, I think that's enough punishment for anyone. With the Patton situation, it's the public scrutiny that gets them more than anything else."
The Hawks will be looking to bounce back from a disappointing 2020 season where they finished with just five wins to sit 15th on the ladder.
They face North Melbourne at UTAS Stadium on Saturday March 6 in their sole pre-season game.