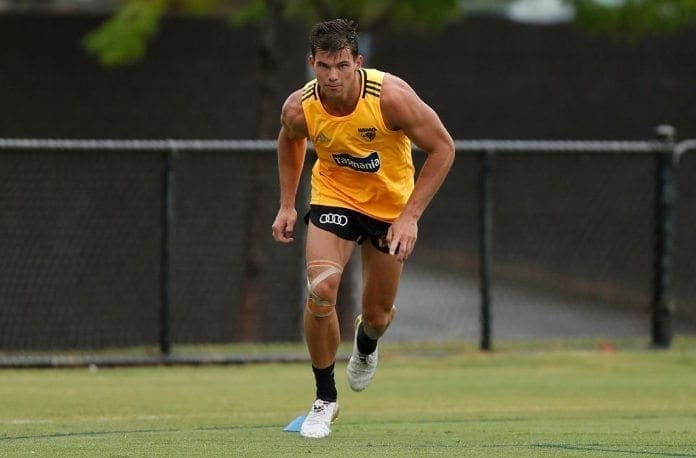 Hawthorn coach Alastair Clarkson is hopeful Hawks duo Jaeger O'Meara and Blake Hardwick will be ready for the club's round two match up against Geelong next Friday night.
O'Meara and Hardwick will be given until the very last moment to be ready for the game, but Clarkson has labelled it as a "significant challenge" for both to get up for the game.
O'Meara is on the mend from a facial fracture and will do all he can to play, pending a clearance from doctors.
Meanwhile, Hardwick has recovered from the pectoral muscle injury that left him out of round one, but with little contact since the seasons suspension, he will also be questionable to play in round two.
O'Meara is the more likely of the two to get up for the round two clash, but both will be given until the Wednesday or Thursday to stake their claim to play.
"He'll do some training and we'll be guided by the surgeons and the doctors in that space," Clarkson said of O'Meara.
"We're hopeful and he's hopeful that he'll be available to play. We're still exploring if he can play with some sort of guard or padding.
"But he's tracking well. If you looked at him, certainly his manner around the footy club, you wouldn't know there's anything wrong and he's keen to play."
Hawthorn haven't travelled to Geelong to face the Cats since Clarkson's second season in charge, which was in 2006.
Clarkson has made it clear though that no matter the circumstances, his team will be ready for the clash.
"Ironically enough the last time we played down there we won by 52 points," Clarkson said.
"The shape of the ground probably works in Geelong's favour more than the opposition. But having said that, it's got green grass, four goalposts at either end, a centre square, a centre circle and two 50m arcs.
"It's as simple as that. That's the exciting part about returning to play. We don't care where it is, what time, who the opposition is. We just want to get out there and play."
In other news, Clarkson has not yet spoken with Chad Wingard personally, but the club are fully behind his stance in the voluntary media ban and calling out racism on his social media.
"I'll speak to him in the next day or two but this isn't uncommon for us to be having chats.
"These conversations happen on a regular basis but it's just this one's been a little bit more public because Chad, in his wisdom, has decided to take a stance and I think it's a good stance to take in the circumstances."