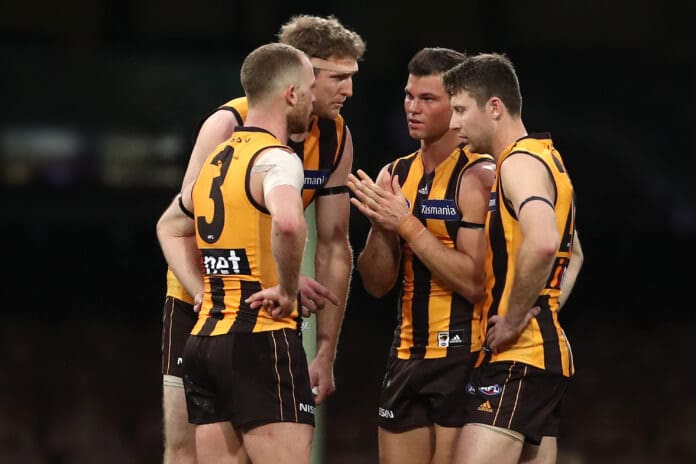 Hawthorn midfielder Tom Mitchell says captain Ben McEvoy's return to the senior side can't be far away, claiming it could be as soon as one month away.
Speaking to the RSN Breakfast Club program this morning, Mitchell said he needs to consolidate a fitness block and tick off on key return-to-play markers to start feeling really comfortable about playing.
"(His) return cant be far away... maybe a month," he said.
"He had a little milestone in the gym yesterday... I think one of his return to play measures was to bench press 90kg in the gym. And he did that and all the boys were jumping around (and were) pretty happy so he's on the right track and we're pumped to get him back soon."
Additionally, as reported earlier in the week, Mitch Lewis and Jack Gunston are set to return this week into the side's forward line for the Hawks' clash with the Bulldogs.
But Mitchell pointed towards the Bulldogs' midfield group, arguably the deepest in the competition, as the main battleground for Friday night.
"They're all quality as well, you could name six or seven players... they're all A-grade mids," he said.
"They're pretty unique in the way that they set up, all their best players are in the midfield (and) that's where a lot of their key stats lie around contested ball and clearance and things like that.
"(But) it's more just having an awareness of what the opposition does, every week, we regularly try play our own system so that's what we'll try and do, but also having an awareness of what opposition does."
That acute awareness of the Bulldogs' midfield model is also something Mitchell eyes as a potential development avenue for the young Hawks engine room going forward.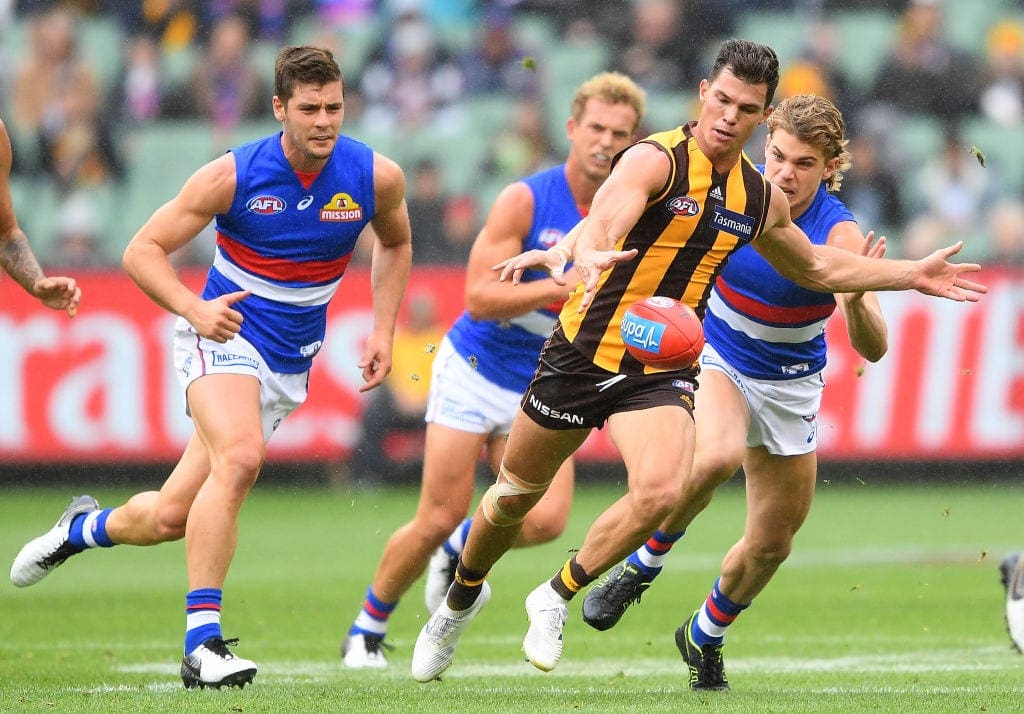 "I think we can find a balance with all the midfielders in the team and everyone sharing the load... spinning the wheels... keeping fresh legs and energy through there... like the Bulldogs," he said.
"Clearly that's the model they go with and seems to work pretty well for them... guys like (Jackson) Macrae, Libba (Tom Liberatore), (Marcus) Bontempelli... (Adam) Treloar, (Josh) Dunkley... so many.
"Hopefully we can build a midfield where we have plenty of numbers going through there and we can have an impact."
Fresh off the bye rounds, the Hawks currently sit 14th on the ladder with four wins and nine losses, but Mitchell said the group remains upbeat with their on-field effort, and regularly implement positive changes.
"We review each game as per normal, we also sorta of do a monthly review, rather than mid-season and end of season. We've been doing reviews in little blocks to get feedback quicker and make changes quicker," he said.
"I think Hawthorn fans are fairly pleased with the effort produced on game day. I know the results may not reflect that with four wins and nine losses, but that could easily be seven and six," he continued.
"I feel as though most games we've been in the game."
The Hawks will face the Bulldogs at Marvel Stadium on Friday night at the earlier time slot of 7:00pm (AEST).