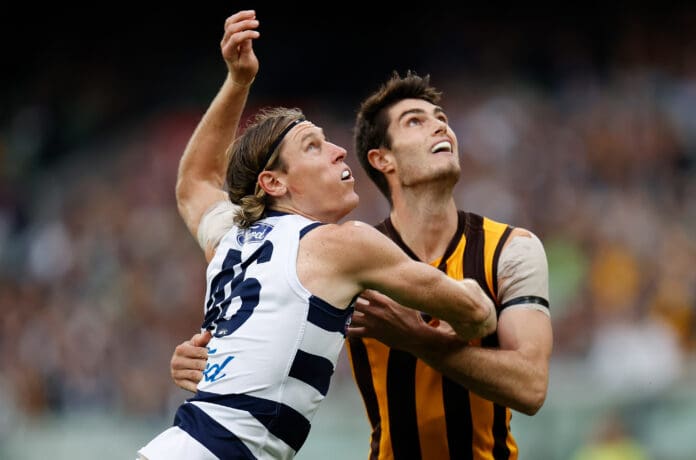 Hawthorn has confirmed that youngster Ned Reeves will miss the remainder of the season, with the 209cm ruckman undergoing surgery on his shoulder this week.
The 23-year-old suffered a shoulder dislocation early in the season on Easter Monday against Geelong in Round 5, eventually returning in Round 12 for the Hawks.
Reeves played 12 games in 2022 and is seen as an important part of the future at Hawthorn and their ruck department.
Head of Football Rob McCartney told hawthornfc.com.au that undergoing the knife now should allow Reeves to complete the majority of his fifth pre-season heading into 2023.
"After Ned's shoulder injury earlier this year, we were aware that he would inevitably require surgery," McCartney said.
"We made the decision to conservatively manage the injury and get him back playing in order for him to continue his development.
"We decided, with the timeline of our season in mind, that he would have surgery this week, which will allow a recovery time that will enable him to do most of the training load prior to Christmas.
"He has shown this season that he is a promising ruckman that is going to be a big part of our future.
"We look forward to him recovering strongly and continuing to develop his game in 2023."
In a career year as a Hawk, Reeves averaged 7.4 disposals, 26.9 hit-outs, and 8 hit-outs to advantage, with Reeves ranked 'above average' in the latter two areas.
Meanwhile, star forward Mitch Lewis will miss Saturday's clash against the Suns due to a knee injury.
Lewis was unable to complete his side's Round 20 loss to the Saints due to the ailment, which will now see him sidelined for at least one week.
The Hawks confirmed on Tuesday evening that Lewis jarred his knee after awkwardly landing on it in a marking contest, suffering some swelling.
Lewis might be in line for a return for Hawthorn's Round 22 clash with Richmond on Sunday, August 14.