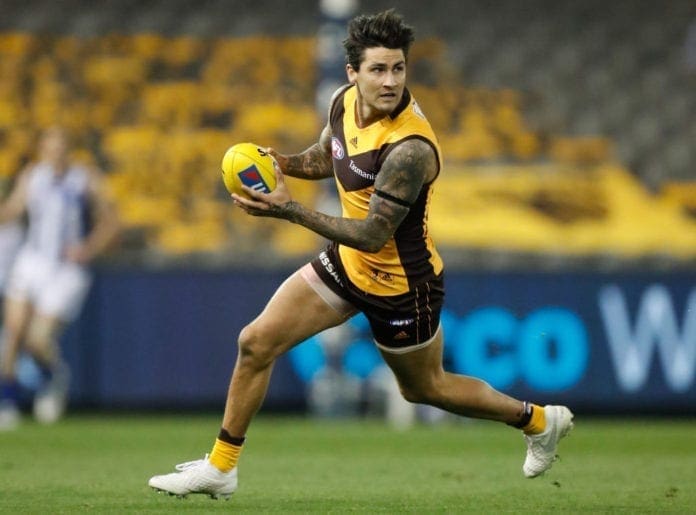 Chad Wingard has been called out for his robust conversation with young fellow forward Jacob Koschitzke in Saturday nights loss to Adelaide.
Wingard and Koschitzke had a disagreement after the end of the third quarter which saw them discuss the issue all the way from the forward line to the huddle.  As the conversation were on Wingard's frustration grew with the duo failing to see eye-to-eye on the issue at hand.
Chad Wingard and Jacob Koschitzke had an exchange at three quarter time. #AFLCrowsHawks pic.twitter.com/EYYhqTSPS9

— AFL (@AFL) July 24, 2021
Port Adelaide great Kane Cornes slammed Wingard for his behaviour saying the more experienced Wingard should have handled himself a lot better.
"I don't mind players having a robust discussion and questioning each other on the field about what's going on," Cornes told AFL Media's The Round So Far.
"This went on for far too long for me for Wingard – he carried on like a porkchop tonight.
"He walks away from the group. He clearly didn't hear what he wanted to hear. It went on for probably two minutes too long than it should have."
Cornes said he didn't mind players having heated discussions and that Wingard may have been right to question the young forward. But reiterated that there's a way to do those things and a way to handle yourself in those scenarios that Wingard just didn't do.
"I've got no issue with a senior player questioning someone or vice versa," Cornes said.
Embed from Getty Images "But this sort of stuff like throwing the head back, the frustration, not being involved in the group, it's so deflating for the rest of the team."
The Port Adelaide games-record holder said he expects more from such a talented player. Especially given where Hawthorn's list is at at the present time.
Cornes went on to say that the attitude shown by WIngard may have been one of the reasons Port Adelaide weren't sorry to see the silky left-footer leave the club.
"For probably the most talented player on their list, I don't think that was good enough from Chad tonight.
"He played well – and he often does, he's really competitive. But some of that stuff and some of his body language has let him down and it was probably one of the reasons that Port Adelaide weren't that disappointed to let him go."