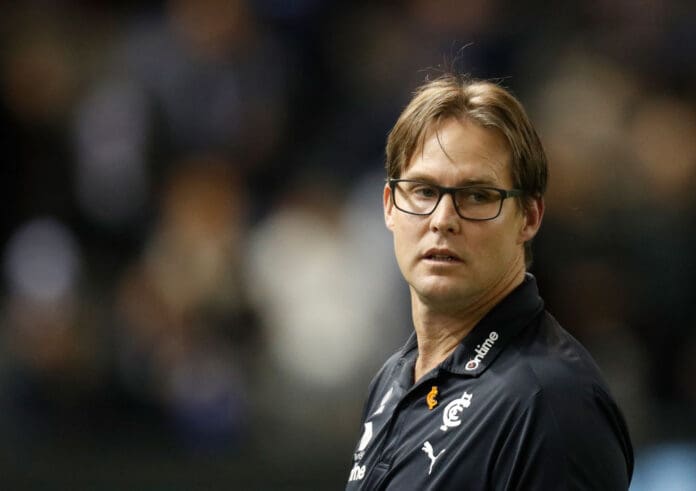 David Teague's job seemingly hangs by a thread at the moment after Carlton's dismal loss to the bottom placed Kangaroos on Saturday.
The Blues conceded seven goals to nil in the third quarter as North Melbourne cruised through the non-existent Carlton defensive structure. And now with the external review of the Blues' football department nearing its end, Teague's ability to take this team further is being questioned.
Embed from Getty ImagesThe Blues conceded 100+ points for the 8th time on the weekend. That is the most by any team in the competition. They have simply been far too easy to play against.
Speaking on SEN Breakfast, Tim Watson said that it was Teague's refusal to buy-in to the defensive part of the game that would ultimately be the reason he loses his job.
"They are not a system-based team and they played against a team that has implemented in a short space of time a far more sustainable, fundamental and basic system that will underpin them when they play and they'll only get better at that, North Melbourne," Watson told SEN Breakfast.
"If Carlton decide that they don't want to go with David Teague at the end of the year, it'll be because in the time he has been there as coach, it's not just about the defence, it's the actual system and your defensive attacking systems lock in together, they're one in the same thing. They've got to be synchronised.
Embed from Getty Images "They haven't been able to do that. He hasn't been able to implement that in the time that he's been there and that's the reason why they are more a talent-based team than they are a system-based team."
Yes, Carlton do have an extensive injury list that saw them without any genuine tall forwards on the weekend. Harry McKay, Mitch McGovern, Marc Pittonet, Caleb Marchbank, Oscar McDonald, Levi Casboult, Michael Gibbons, Sam Docherty, David Cuningham are all out injured, but that doesn't excuse effort.
It's the Carlton effort as much as the result that has brought the heat onto the club yet again. The unwillingness to defend and work back when without the football is unlike any team in the competition.
Watson believes that Teague will struggle to survive the clubs external review which is set to be completed this week.
"I don't think he will be coaching next year," he said.
Embed from Getty Images "He has remained upbeat throughout this as he has to be as the leader of an organisation and everybody draws their energy from him as a result of that, but you look at the other teams and most teams have a system to the way they play and everyone's different in their strengths and weaknesses … I don't think they've ever been able to implement a type of play, a standard of play."
Damien Barrett joined the chorus of media critics who believe Teague's tenure at Princes Park can't go on after the demeaning loss to North Melbourne.
Barrett said that the fact the team couldn't find effort in a game that played a huge part in keeping their slim finals hopes alive was unforgivable.
"It was somewhat of a surprise when they called this review six weeks ago, but it is now proving to be very smart business," Barrett said on AFL Daily.
Carlton's review is imminent, reports @tommorris32 on #FirstCrack 📺 pic.twitter.com/4kyEmXGozB

— Fox Footy (@FOXFOOTY) July 25, 2021
"Because if they hadn't call a full-on review as they did do around that bye period, they'd be requiring to do one right now. It means they haven't wasted the back half of this year.
"Unfortunately now, I just don't see a way out for David Teague now. It was the manner in which that team presented itself to play a game of footy at this late stage of this season where finals were still a possibility."
Barrett went on to say that there is now been enough time that the club can judge Teague on to make their decision. He said that Teague hasn't been able to take Carlton forward despite having all the tools at his disposal.
Barrett highlighted Sam Walsh, Patrick Cripps, Harry McKay and Jacob Weitering as top 20 players in the league and believes that if Teague can't make it work with this list then maybe he isn't the man for the job.
"It's a 46-game body of work now. I kept cutting slack for 2019. It was a false dawn wasn't it?
"When you've got access to players that some people would say are in the top 20 in the competition in Weitering, McKay, Walsh and Cripps.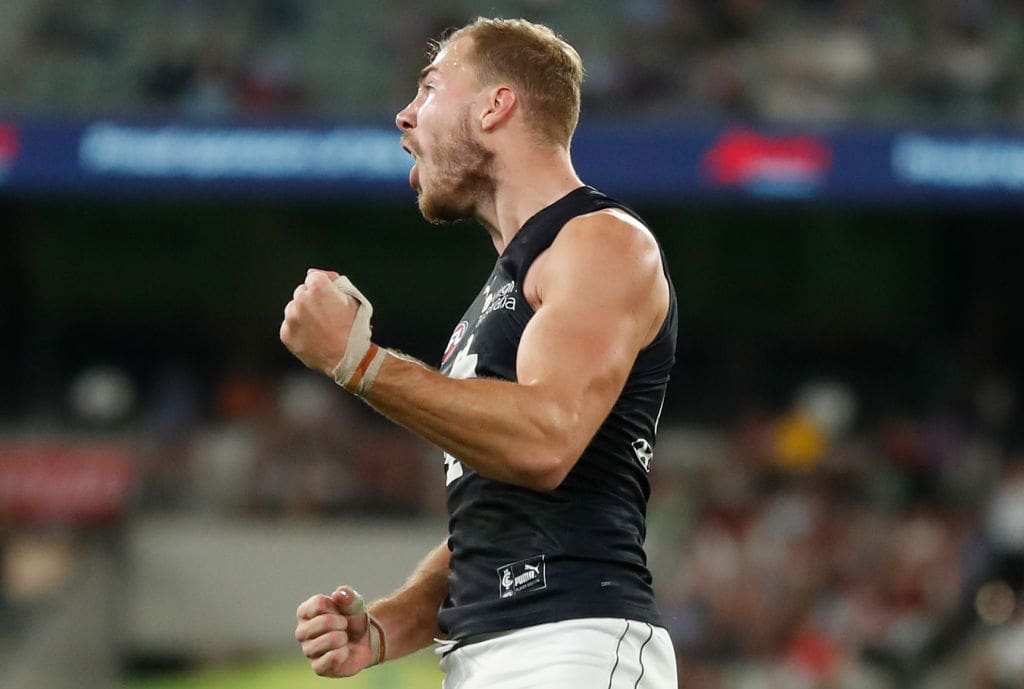 "You've got the forward line setup with McKay, backline setup with Weitering and you've got Jones in there as well to bolster that part of the ground. You've got two midfielders who are as good as any going around and you can't work around that?"
Port Adelaide games-record holder Kane Cornes took aim at Carlton for their lack of defensive awareness and want to work back.
"The players look like they've given up on the coach," Cornes said on The Sunday Footy Show.
"To me, the players look like they've given up on the coach."@kanecornes believes yesterday's showing spells danger for David Teague's future.#9AFLSFS | Watch @channel9 pic.twitter.com/K0pqixEqMl

— Footy on Nine (@FootyonNine) July 25, 2021
"We can show a million examples.. during that 3rd quarter they gave up on (Teague).
"The demise is coming for David Teague, we've all been around footy long enough to know where it is going."
He said he believes the players are no longer playing for their coach.
"To me, the players look like they've given up on the coach."