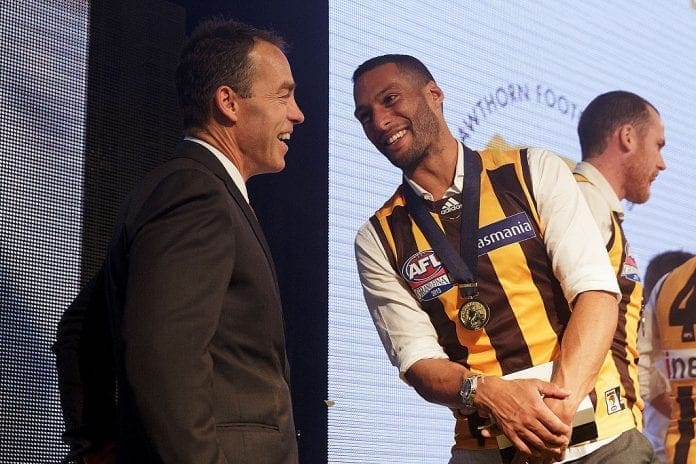 With all the heroes of Hawthorn's dominance over the last decade slowly moving on, either to other clubs or retirement, we are starting to see the real Alastair Clarkson evolve.
A character that is calm in front of cameras is slowly allowing us behind the scenes of their culture, and what it means to be a Hawthorn player.
Retired Premiership defender, Josh Gibson, spoke about his troubles in the beginning of his time at Hawthorn on Sunday night's episode of reality TV program, I'm A Celebrity, Get Me Out of Here.
The dual best-and-fairest and triple premiership winning defender spoke about his behavioural habit at North Melbourne before crossing over to Hawthorn at the end of 2009.
It was his early part of the change of scenery that delivered the harsh message by Clarkson and his new team mates, 'fit in or f*** off.'
Speaking to SEN Whateleys this morning, Clarkson explained the harsh and confronting message.
"It seem like a nice little tag line the fit in or f$#@ off message but that was delivered by several of us who said to him that the best thing for you and us to get some continuity in your football and the best preparation for that is to get yourself out of the social pages," Clarkson said.
The brutal reality of it was for Gibson that if he didn't fix his habits and 'party boy' antics, that his time at Hawthorn would come to an abrupt end. "The next three months proved the litmus test."
Gibson, while consistent without being a standout at North Melbourne, quickly changed his habits and developed into one of the premier intercepting defenders in the games history. He quickly adapted to life at Hawthorn and stabilised his professional career on the field, and off it, being an integral part of the reign between 2013-15.