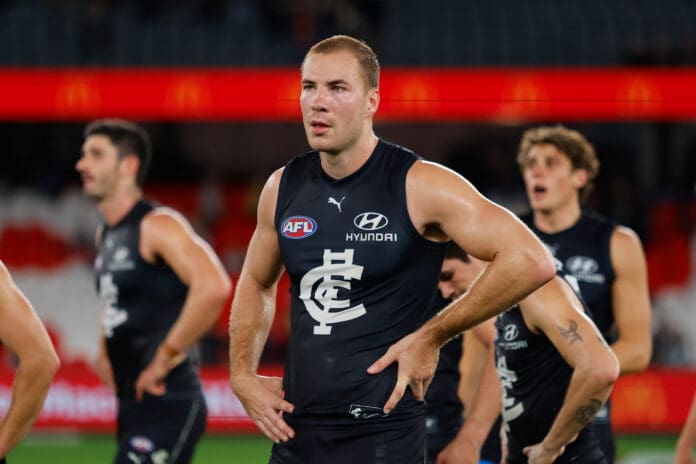 Embattled Blues forward Harry McKay has voiced his feelings on the mounting media noise surrounding his poor form before goal in recent weeks, revealing just how it has affected him and the team.
Speaking alongside his brother Ben in their aptly-named podcast 'Harry and Ben', the Coleman medallist claimed he had made a "conscious effort" to block out the noise coming from outside the four walls of Princes Park.
"I'm alright," Harry said of his mood.
"There's a lot in the media.
"I made a conscious effort not to look at anything... you always know when someone is speaking about you."
While in conversation with his Carlton teammates, McKay stated he was also aware of the impact his waywardness was having on the team, acknowledging the current outcomes were far from ideal.
"When it affects others, it sucks," the 25-year-old said."I find that part hard."
Carlton coach Michael Voss has come to the defense of the 2021 Coleman Medallist.
"We'll throw arms around him and support him," Voss said after the Blues' defeat to Sydney last Friday.
"We'll support him the best we can.
"It's a part of our game we need to work on."
Noted for his swinging choice to go around the body or opt for a drop punt, McKay raised that he may need a change in kicking technique, but finds it difficult to know what to change and how to make those decisions.
"You would be lying if you didn't think about," McKay said.
"Listening to a million different voices is actually detrimental, you need clarity.
"The less noise the better."
The 13th placed Blues will take on Melbourne on Friday night at the MCG, vying to breathe some life back into their season after four consecutive losses.