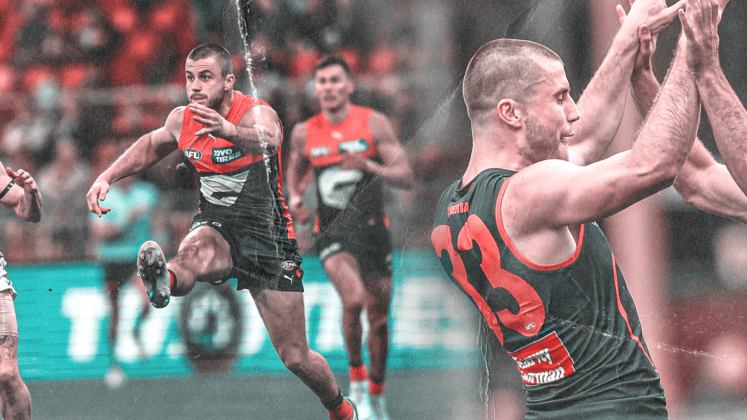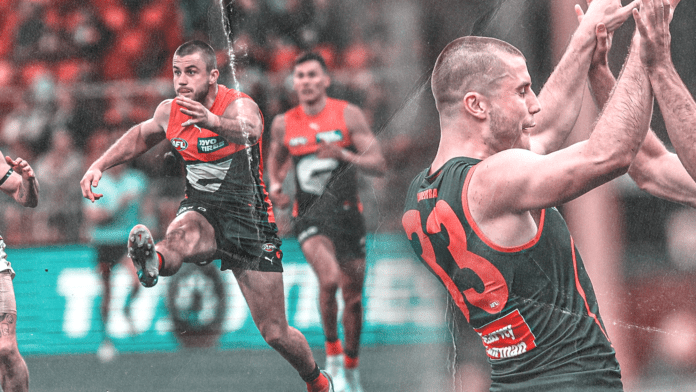 When people hear the name Xavier O'Halloran, they will easily link him as the last-minute replacement for Stephen Coniglio in the Giants' victory against the Saints last week, or associate him with former Footscray premiership midfielder Ron McCarthy.
However, O'Halloran is far from that and has already experienced the highs and lows of the AFL despite being only 23 years old and 46 games into his Aussie Rules career.
In an exclusive interview with Zero Hanger, O'Halloran revealed the extent of the injuries he sustained early in his career and the psychological impact it had on him. He also detailed his relationship with coach Adam Kingsley and spoke about his family, including his grandfather Ron McCarthy, who won the 1954 VFL Premiership with the Footscray Bulldogs.
Drafted in 2018, he came into the league at the same time as the likes of Sam Walsh, Connor Rozee, Zak Butters and Bailey Smith. However, unlike the aforementioned stars, O'Halloran has had an arduous journey with injuries that didn't see him play more than two games until 2021.
"It was a bit of a different experience for me coming in," O'Halloran told Zero Hanger.
"I played pretty much my whole junior career without any injuries, and then I came in and sort of only did about a week, maybe even half a week of preseason in my first year, and then I had a couple of injuries.
"I did my LCL and my ankle in those two seasons, so I missed a fair chunk of football, which obviously doesn't help in the progression of your life as a footballer."
Missing the first two seasons of your footballing career is a terrible way to start, but O'Halloran believes being sidelined was a blessing in disguise.
He admitted that the time away from the game helped teach him things he wouldn't have learned if the injuries had never occurred, and discussed the psychological impact injuries have.
"I guess it taught me a few things that I wouldn't have learned that early in terms of work ethic and things that you need to do behind the scenes to best prepare yourself for a good career."
"The worst bit about being injured is just not being part of it, and I experienced that the last sort of eight weeks," he added.
"It's even more difficult when the team's going well, and you want to be a part of that again.
"It's always fantastic when the team is going well, but there's a part of you that wants to still be involved and be contributing to that.
"It can be a big psychological impact."
After originally being listed as the sub for last week's semi-final against the Saints, the 23-year-old entered the starting 22; only finding out that morning he was going to play after Stephen Coniglio was a late withdrawal.
The victory not only pushed GWS one step closer to the Grand Final, but it was O'Halloran's maiden AFL finals appearance. During the week, he revealed to Zero Hanger how he has flourished under the tutelage and guidance of first-year coach Adam Kingsley.
"[He's had a] phenomenal impact. He's been able to regain a bit of confidence that was lost and given me the ability to fully believe in my capabilities as a footballer, which has been refreshing and pleasant.
"That belief that he's been able to instil in me has been shown in being able to play some consistent footy before I injured my hand a couple of months ago.
"He's been great not only for me but for other players as well. We've got pretty much our whole list playing their best football. That's a testament to him and the coaching staff around that's come in and the work that they've been able to do in such a short amount of time.
The arrival of Kingsley into the club this season has also seen O'Halloran transition from a midfield role to playing in the forward line.
"I have been enjoying the forward role. It's been good to add another string to my bow."
Recently inking a two-year contract extension in July to keep him at the club until the end of the 2025 season, O'Halloran credits his family for where he is now; playing in the AFL during finals-time, living out every kid's dream.
This season has also been arguably his best year in the AFL. Not only has he been consistently a part of Kingsley's burgeoning side - save for an absence due to a thumb injury - but his ability and development have shone. He's developing into one of the best players under the age of 25 at the Giants.
"Yeah, it would, 100 per cent," he said on if it would be nice to emulate his grandfather's Grand Final success back in 1954.
"I'd be lying if I said it wouldn't be. It'd be fantastic to live that experience out, especially this year and hopefully for many more years to come, and hopefully create a dynasty.
"I always give a lot of credit to my family. My mum and dad have always been there since day dot, and they provide me with advice, even away from football, which has helped me in football," he explained to Zero Hanger.
"The most important thing they've taught me is a bit of gratitude and the ability to always believe in myself and to go out every day and do it with a smile on my face.
"I guess that's the sort of best thing that I try and do every day and just go out and have a smile on my face and do everything with a bit of fun and really try and enjoy what I do for a living and just everyday life."
He also credits Phil Davis, Callan Ward, Stephen Coniglio, and Josh Kelly as his prominent mentors at the club, helping pave the way not only for him but the other younger players at the Western Sydney club.
The GWS Giants will take on Port Adelaide on Saturday as they look to clinch a spot in a preliminary final against Collingwood at the MCG next weekend.
Despite travelling to the fortress that is the Adelaide Oval, the Giants will enter the clash on a winning streak and bubbling with confidence. Victories against the Blues and St Kilda have seen the club hit peak form at the right time of the year.
"We go into every game with full confidence," he stated.
"It's sort of a mentality, it's been spoken about a fair bit by our players of 'You know, why not us?'. So we go into every game with complete belief that we can get the job done against anyone and anywhere."
While the Giants may have only won one out of their past five games against Port Adelaide, they enter Saturday's bout with the most road wins out of any club this season.
They will also have an added incentive as they look to send off veteran Daniel Lloyd in style. Playing his 100th AFL game this week, the 31-year-old announced he will retire at the season's end, closing out an eight-year career with GWS.