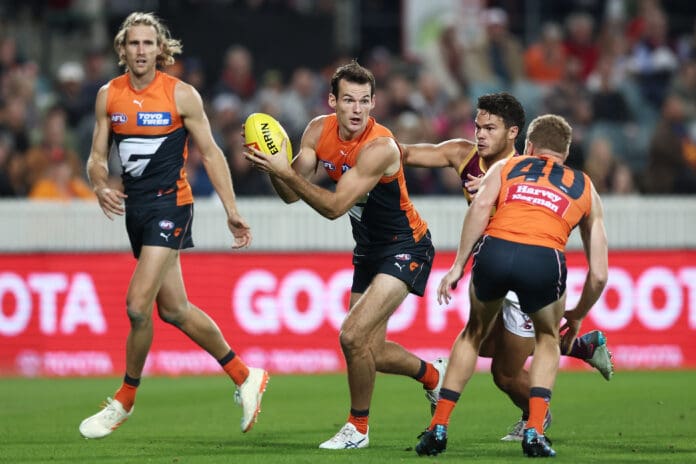 Greater Western Sydney key defender Jack Buckley has signed a new three-year contract extension that will keep him at the Giants through to at least the end of 2026.
In 2018, Buckley was offered a rookie contract with the club, but he had to wait nearly three seasons before earning his debut in round 17, 2020, against the Demons.
Buckley earned his spot after a terrific 2020 pre-season, in one game kicking 7 goals in a 93-point win over the Canberra Football Club.
Over the next two seasons, the key defender notched 21 games as a key member of the Giants' backline due to former co-captain Phil Davis going down with an injury.
The Sydney product would go on to play every game that season until round 16 when a torn ACL would put a temporary halt on his footballing career. Not only had he torn his ACL, he also tore the medial collateral ligament and damaged the cartilage.
This meant the 25-year-old would miss not only the remainder of the season, but also the entirety of 2022.
"I'm over the moon about it," Buckley told Giants Media.
"I'm just grateful to be able to give back to the club.
"All you want to do is to be able to get out there at help the club, to not be able to do that was obviously very hard.
"Definitely a really hard time in my life, for sure, but it's probably helped me in coming back this year."
Through 626 days without AFL football, Buckley pushed his own limits during his recovery with the aim to get back in the Giants 22.
"I've learned a lot about resilience and how to keep my body right so I can be out there this year" he said.
His opportunity arrived when the backman was a late inclusion in round 1 against Adelaide with Leek Aleer suffering an injury in warm up.
The son of former Kangaroo, Ben Buckley, now has an opportunity to take the next step in his career. Buckley has become a key presence in new coach Adam Kingsley's defence, playing every game in the 2023 season.