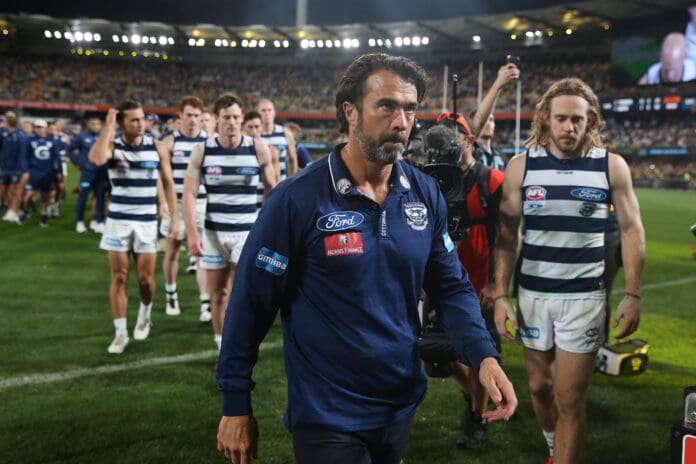 Geelong coach Chris Scott has lambasted the rule interpretation regarding moving off the set shot line after Patrick Dangerfield was called to play-on during his run-up for a set shot on Friday night during the Cats' draw with the Swans.
Dangerfield was called to play on twice during Friday's contest, the first when the 'shot clock' expired as he started walking in to take his kick, and the second when he moved off his line slightly when undergoing his run-up to kick at goal from 50 metres out.
"Extraordinary circumstances" as the Cats' skipper is called to play on - despite some calling for a 50m penalty first!

📺 Watch #AFLSwansCats on ch. 504 or stream on Kayo: https://t.co/m5ejvre8CR
✍️ BLOG https://t.co/25AONjYwhR
🔢 MATCH CENTRE https://t.co/pQIlCCRCaC pic.twitter.com/6VYPj3AEsX

— Fox Footy (@FOXFOOTY) June 30, 2023
Speaking to the media post-game, though, Scott stated he was most annoyed by the second instance where 'Danger' was called to play on.
"The one that sort of irritated me a little bit more, to be honest, is the one where he got called to play on for stepping 10cm off his line at the top of the 50," Scott said on Friday.
"You can come miles off your line these days and the umpire won't call you, but as soon as you sort of shape to kick and you go 10cm off your line he calls you to play on."
Scott berated the inconsistency surrounding the rule's interpretation, claiming the umpires aren't to blame.
"It's just the inconsistency there, not from the umpires, I mean around the ruling and the interpretation that they're provided. It doesn't make any sense to me," said Scott.
After Friday night's nailbiter resulted in a draw, Scott's Cats will return home in Round 17 to play North Melbourne at GMHBA Stadium.