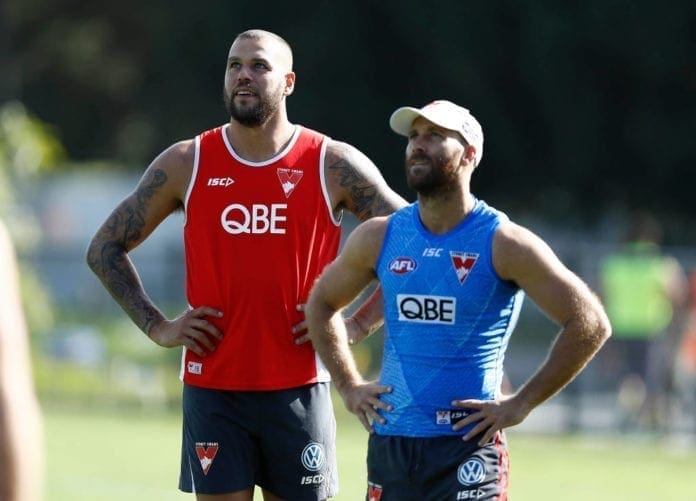 Sydney will be without Lance Franklin for at least another couple of weeks, while former captain Jarrad McVeigh will miss a month with a calf injury.
Franklin is stranded on 299 AFL games, and was a small chance to return this weekend against Fremantle, but has now been ruled out of that match, with his chances of facing Geelong next weekend very, very slim.
The forward's return date is now unknown, with the Swans set to make sure he's 100% before naming him again.
McVeigh was looking at a return to the senior side following a stint in the reserves, but will now miss another month of action, which could see his career at a crossroads.
The 34-year-old has played just five games this season, and is out of contract at the end of the season following a one-year extension in 2018.
"Yeah, unfortunately, Jarrad hurt his calf so he's out for a month. Obviously, he got back in and is one of our players that has hardly played at all this year," Longmire told the media on Monday.
"He's played only a handful of games so far. He got through into the last quarter and pulled up sore in his calf, had a scan this morning so he's out for a month.
"It's very disappointing it's another soft tissue injury. He's a pretty resilient sort of bloke though. I spoke to him last night and he got in today and got his scan and started his rehab program. He's a pretty resilient bloke but I think even this is starting to test him a bit.
"Macca is not someone who sits around moping about it. He gets on with things pretty well and has always done."