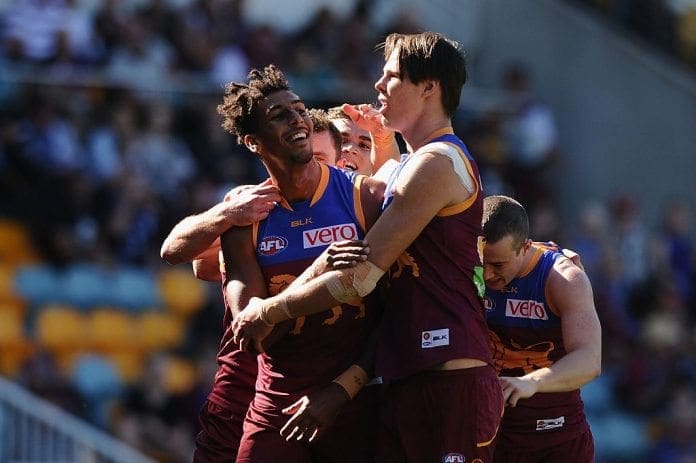 Retired Brisbane ruckman Archie Smith has opened up on how his mental health spiralled after a poor individual display in Brisbane's 2019 loss to Carlton.
The Lions lost to Carlton in what was the Blues' second win of the season in David Teague's first game in charge despite kicking the first five goals.
Smith himself didn't have his best day that afternoon, highlighted by an off the ball free-kick given away to veteran Kade Simpson where Smith knocked the slim defender off his feet in front of the interchange.
He was immediately taken from the field and was given an almighty spray by coach Chris Fagan, which was caught on camera.
Smith revealed in a candid Instagram post that the loss was the trigger to him entering a poor mental state.
"This photo is directly after a game back in 2019 at Marvel Stadium that spurred a mental struggle," Smith wrote.
"The team was going well and I'd put everything into cracking a good side. I finally did and stayed for a few weeks. I wasn't able to enjoy any of the wins because I was so paranoid about losing my spot.
"We were off our game and in front of a packed stadium lost against a team who everyone had picked us beating.
He went on to reveal that he had "frozen mid-game" on that Saturday afternoon at Marvel Stadium, so much so, that he no longer wanted to be in that moment any longer.
He said that he could feel himself distancing himself from family and reliving the mistakes he had made on-field time and time again.
"(It was the) first time I'd ever froze mid-game and didn't want to be there," Smith detailed.
"I didn't play well and remember getting sprayed by our coach in front of the sideline cameras.
"We copped it from everyone and I was one of the players dropped.
"From there I internalised and wanted to hide from the world. I hated myself and thought it was all over."
"It continued to manifest and could feel myself deteriorating. Not talking to family, sleeping horribly and replaying my errors through my brain for weeks.
Smith listed off the techniques he used to get himself back on track and how he managed what was a deteriorating situation.
He turned to gratitude and decided not to compare himself to other players even though he was vying for a spot in a team destined for finals.
"Hindsight is 20/20 and I look back and remember how I finally managed it," he recalled.
"I spoke to a psych and put a plan in place perspective and gratitude, not comparing myself to other players, taking things a day at a time and having fun and not taking myself too seriously.
"The next two years were so much more enjoyable than my first 6.
"I look back now and through the tragic death of my younger brother (who did very similar things), my niece's heart condition and becoming a husband and soon-to-be dad, I can't fathom how I let footy have so much control of who I was.
"I share this because I've seen not just footy players but everyone let things get on top of them. Reach out and talk to people no matter how small your issue."