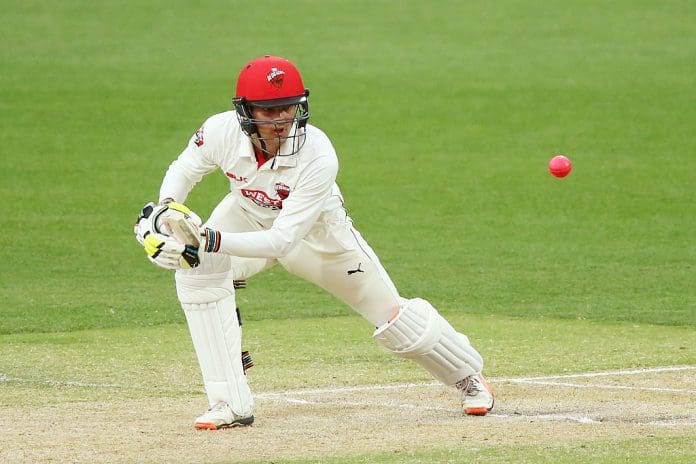 Former Greater Western Sydney Giants player Alex Carey has been announced as Australia's new wicket-keeper for the opening Ashes Test at the Gabba.
Carey will replace Tim Paine, who has recently stepped down from the Australian Team indefinitely and has resigned as the nation's captain.
The former AFL player was selected above young wicketkeeper Josh Ingles, who is considered a future option for Australian selectors.
With a long-term vacancy in the wicketkeeping position, this selection provides Carey the first opportunity to make his case for the position.
Starting his career for Australia at the Gabba puts him in an elite company. The last wicketkeeper to debut on home soil was legend Adam Gilchrist.
Carey has been impressing in the Sheffield Sheild and for Australia in short, form matches. Being presented with a Baggy Green has been a goal for Carey but something that seemed difficult prior to Paine's exit. Despite all the pressure and excitement surrounding the Ashes, however, Carey remains focused on bringing the urn back home.
"I am incredibly humbled by this opportunity. It's an exciting build-up for what is a huge series ahead," Carey stated in a release.
"My focus is on preparing and playing my part in helping Australia secure the Ashes."
On the sidelines, there will be plenty of people cheering for him to solidify the wicketkeeping position. Giant support is expected from friends, family and his old club.
Congratulations Alex! Your GIANTS family is right behind you 🧡 pic.twitter.com/fyv82ncLjz

— GWS GIANTS (@GWSGIANTS) December 2, 2021
He will be the 463rd player to be presented with the Baggy Green.
Carey's journey into cricket was unconventional, playing football from the age of 15 until a conversation in 2011 changed his life forever.
After playing football for Glenelg and South Australia as a teenager, he was offered a contract to join what was soon to be the 18th club of the AFL, the Greater Western Sydney Giants.
Carey was the first captain of GWS while they were in the TAC Cup in 2010. He even was the club's best and fairest in the 2010 season, where they made it through to the finals.
While his first season at GWS looked promising, things began to slow in 2011. This ended in Carey not being offered a position with the Giants by the time they were set to enter the AFL.
Former GWS coach Kevin Sheedy spoke to News Corp about the conversation he had with Carey. In an honest conversation, Sheedy believed that Carey's future wasn't in the AFL. Instead, insisting that he should switch codes.
"I told him we've got 20 midfielders, have a crack at cricket, mate," Sheedy said.
"You've got to play the odds here for a person of your height and your weight and your talent.
"If you want to be in the best talent you're going to have to beat Toby Greene, the captain (Stephen Coniglio), and we've just knocked off the (No.1 draft pick) in Tom Scully.
"So we've got all these midfielders and I said, 'If you want to have a decent crack at a sport, have a crack at cricket'."
Sheedy saw his conversation as a way to help Carey. Instead of providing false hope or stringing him along, he was able to give an honest assessment of the situation. By doing so he has allowed him to turn himself into a wicketkeeper for Australia.
"It was trying to get people placed so you don't stuff up their lives. The Giants gave a chance for someone's career to flourish at another sport," he said.
"He's a guy that missed out on a Grand Final for the Giants (2019), but he may get recompensed with a Test career."
After the conversation with Sheedy, Carey returned home to South Australia. Originally, the plan was to rejoin the Glenelg Football Club in the hopes of getting onto another AFL list. Instead, he chose to follow the advice and switch back to cricket.
Carey began his sporting journey as a cricketer, playing for the Glenelg Cricket Club as a junior. Football wasn't something that he heavily considered until former Giants recruiter Neville Stibbard reached out.
Having seen him playing cricket, Stibbard believed that there was a bright future in the AFL for Carey.
"They (emails) said you could be a premiership player of a start-up club, which would be history-making to your grandkids," Stibbard told News Corp.
"There will be photos of the first Giants and Suns premiership sides in the offices forever, and I took him through the boys he'd be playing with."
"He was certainly in that group. As a young person, he was a quality person. I found him engaging to talk to and he'll represent Australia well."
The first Ashes Test is scheduled for next Wednesday at the Gabba, with final selection to be confirmed closer to the match.