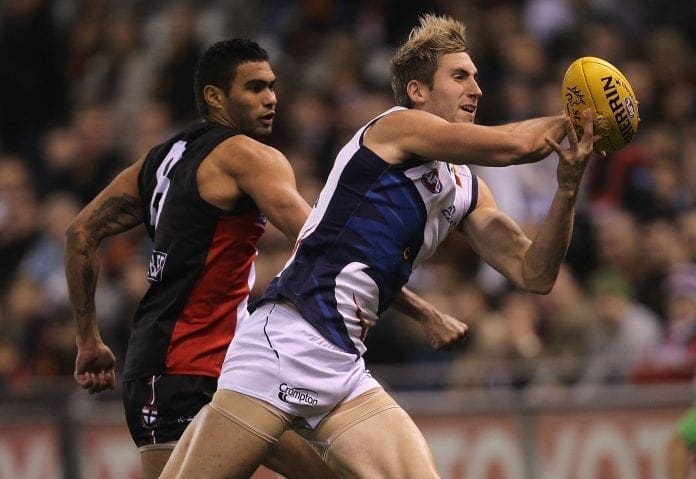 Former Adelaide player Brad Moran has landed a $205 million sale of his start-up software company CitrusAd.
In a partnership consisting of Moran and Nick Peach, the pair first launch CitrusAd in 2017, with the business auctioning online advertising spaces at a premium cost for product placement.
The nine-figure sum has seen Moran bank a stunning fortune 10 years on from calling time on his AFL career with the Crows.
Former @Adelaide_FC player Brad Moran just sold his advertising technology start-up company CitrusAd for 205 million.

— Michael Jenkins (@M_Jenkins4) October 19, 2021
Customers of CitrusAd include Woolworths, Coles, Dan Murphy's and Tesco, with the company now sold to French multinational advertising and public relations firm Publicis Groupe, according to The Advertiser. 
"What we learned after talking to the grocers for a long time was that they used to make a lot of their money from the eye-line shelf space," Moran said.
"And so we basically decided to build the digital version of that — a system where the retailer could allow their suppliers like Unilever and Coke and Pepsi to bid like they would on Google for the top spots on Google, but for the top spots on woolworths.com or coles.com.
"There was a lot more focus on online towards the back half of last year and there was a lot of focus around how do we make online profitable.
The recent boom in Brisbane-based tech company success continues as former Adelaide Crow Brad Moran sells CitrusAd to French giant Publicis Groupe. https://t.co/hnFb8y7FYq

— Financial Review (@FinancialReview) October 18, 2021
"Naturally they started to look for monetising solutions and things that could bring them advertising revenue to offset the cost of the growing the online presence."
Moran played 21 AFL games across his seven-year career with the Kangaroos and Crows, which was cut short due to injury.
Moran and Peach are set to join Publicis Groupe's analytics company, Epsilon, as chief executive and chief marketing officer.