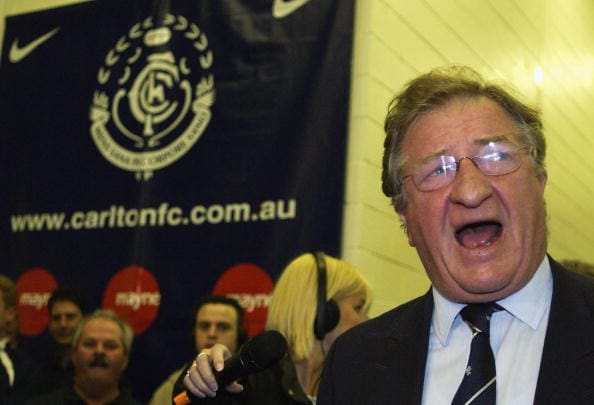 Former Carlton president John Elliott has passed away on Thursday evening, aged 79.
Elliott was present of the Blues for almost 20 years between 1983 and 2002, when the club brought home two flags.
The first of those was in 1987, when the club beat the Hawthorn Hawks 104 to 71 in the decider, before they thumped the Geelong Cats in the 1995 decider by 61 points, a match which was their 16th win on the trot and 23rd for the season, which was a record at the time.
1995 saw Carlton take home the minor premiership by a staggering 16 competition points.
The Melbourne-born Elliott was reportedly admitted to hospital last week after a fall. It's understood he was in poor health following the incident.
Elliott was president of the Australian Liberal Party from 1987 to 1990, while he also had heavy involvement in business throughout his life.
Following his 2002 exit from Carlton as a result of a salary cap scandal, he maintained his public profile and was involved with the Committee for Melbourne.
His son Tom announced his death on 3AW Radio on Thursday evening.
"Sadly, my father, John Elliot, died just a couple of hours ago," son Tom Elliott said on 3AW radio.
"He had been ill for a few weeks. He had a bad fall a little while back and had been at the Epworth hospital at Richmond. We got the very sad news this afternoon that he had taken his last breath."
A statement from the family read.
"It is with great sadness that we announce the death of John Dorman Elliott," the family said.
"He died Thursday evening at the Epworth Hospital in Richmond after a short illness.
"Dad will be greatly missed by his four children Tom, Caroline, Edward and Alexandra. Their children Henry, Sebastian, India, Ava, Lottie and Mathilda will remember forever their "Grandpa Jack".
"Also in mourning are John's brother Ross, sister-in-law Jenny, former partner Joanne and second wife Amanda. They are joined in grief by numerous nieces, nephews, grandchildren and other close relatives. Vale Dad."'