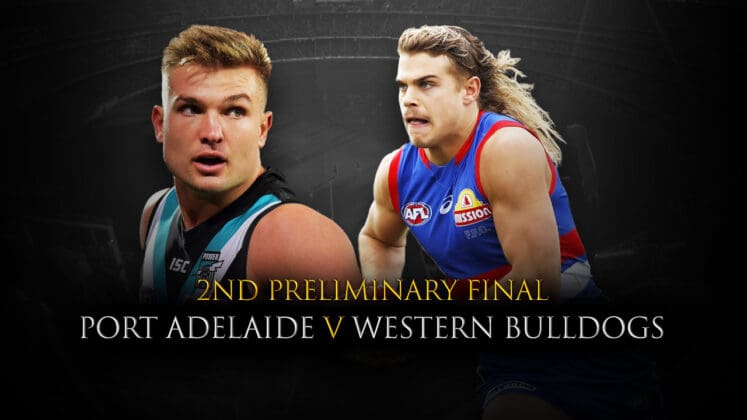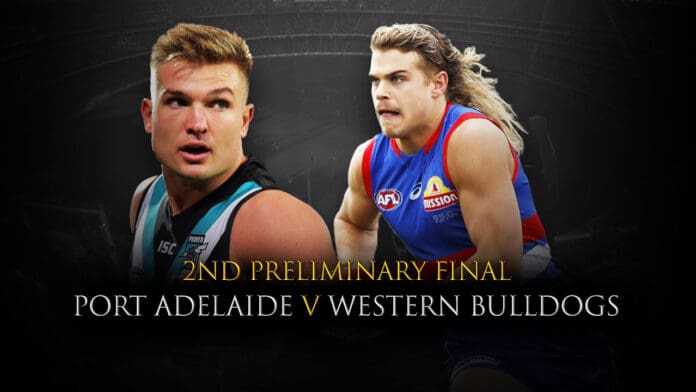 I must say, it's quite interesting that the two preliminary finalists both played each other only a month ago. The Bulldogs Port Round 23 match was a catalyst for how things would shape up in the finals. Port shocked most by coming back from a four goal deficit early to win the game, solidifying a home final (with fans!) in the process.
Not many (including myself) believed in Port Adelaide to make it all the way to the grand final. That win against the Bulldogs changed the trajectory of Port Adelaide's destiny and now they go into this game favourites to make the grand final. But Preliminary finals are unlike no other – many tipped as favourites fail to execute under the heat of pressure.
You only have to look at the last few years (Brisbane vs Geelong in Brisbane, Collingwood vs GWS, Richmond vs Collingwood) for that point to really sink in. The Bulldogs wouldn't have forgotten about Round 23 and while they've suffered injuries, they've found their mojo again in a few areas of the game that made them the best team for most of this year.
Let's not forget, the Bulldogs at their best earlier this year came into Adelaide and beat Port by 19 points. If Port think they're halfway home, they could just as quickly be packing their bags. Let's get into a some focus areas:
It's a whole different ball game with the Dogs
Port Adelaide were ruthless against Geelong. They brought immense pressure around the ball but also suffocated Geelong with their defensive press and an organised locate mentality without the ball.
They dared Geelong to possess by marks in order to hedge them backwards and give up field territory – something Port Adelaide cherish. This weeks a different kettle of fish though. The Bulldogs are a stark contrast to Geelong offensively. As discussed in length here, the Bulldogs generate offensive momentum via hands and are more risk averse through the corridor than Geelong, especially in live ball scenarios.
This poses as a threat and opportunity for Port Adelaide. The threat is that if their pressure isn't high or two players are rushing to the same ball carrier, the Bulldogs will cut them up. Their strength to outnumber teams at the next contest won't matter because there won't be a next contest – it'll be a Western Bulldogs continuous handball chain to a deep forward 50 entry.
Geelong were unadventurous in the qualifying final and went long from stoppages to a marking contest more often than not. This played into Port's hands because they outnumbered Geelong at the next contest and launched on the counter attack often out through the open side.
The Bulldogs won't kick long unless absolutely necessary – they will use hands to take the space in front of them and kick over that contest. If Port don't bring sufficient pressure and Aliir Aliir thinks the Bulldogs will blindly kick to him from a stoppage scenario time and time again like Geelong did, he's going to be mistaken. It will likely sail over his head, like this Bontempelli shot on goal.
But handballing chains are risky because it creates live ball turnovers where players are out of position running ahead for the next handball. If Port's pressure is to the same standard that they brought against Geelong, the Bulldogs will give them counter attack opportunities. The handballs invite pressure to the next player. Here they convert a forced mid ground turnover into a shot on goal,
For a team thats been maligned in recent years for their mentality, what an opportunity it is for Port to set the tone early with their pressure and force mistakes from the Bulldogs. Again, a threat or opportunity for Port Adelaide. We'll be able to tell early on what they make of it.
Dogs have their bark back
If you've followed the AFL closely this year, the Bulldogs were the best for most of this year. They were dominant in the midfield with stars on the inside and outside, a dangerous forward line with a good blend of smalls and cohesive talls and a limited key defensive back group yet who were supported by AFL best offensive rebounders in their back half. But like any team, dominance starts and ends with an inside midfield group. More specifically, the requirement of having a consistent midfield who either:
a. Win their own football at a high level;
b. Place significant pressure at the source to impact the disposal of opponents who win the ball or;
c. Be the first to spread from the contest to the next disposal chain;
The Bulldogs were elite at a. and c. for most of this year – ranking 5th for contested possessions, 2nd in clearances and possessing three of the top 30 players for ground ball gets around the ground (Liberatore 3rd, Macrae 4th, Bont 26th).
But leading up to the finals (the last month of football) where the Bulldogs lost their last 3 games, they fell away in this area. Fatigue, the inclusion of inside midfielders who were clearly underdone (Treloar, Dunkley) and the loss of Bruce (forcing Bontempelli to spend more time forward) were all reasons for the drop off.
The reasons didn't matter, the results did. They started to get beat around the ball and their contest work dropped off. If Bontempelli is playing forward and Liberatore is getting tagged (as Drew did in Round 23), all of a sudden the Bulldogs become vulnerable on the inside and the rest of their offensive ball movement suffers.
To put this into context with numbers, a comparison between Round 22 and 23 and their first two finals.
| | | |
| --- | --- | --- |
| | Round 22 & 23 | Both finals |
| Contested disposals (differential) | 128 (-24) | 163 (+32) |
| Clearances | 30 (-9) | 46 (+10) |
There are a few reasons for this. Firstly, the Bulldogs got back to a more defensive mindset in their midfield. Brashness in their own individual ability resulted in some Bulldogs midfielders swarming to win the same ball when they weren't in the best position. This created instances where they lost their shape on the outside and gave up quality clearances through the front. They've cleaned this up now due to the next two points.
The Bulldogs opting to stick with Young (who has been dropped) and Schache as forward options to free up Bontempelli to play his permanent midfield role. If Liberatore is tagged (which has become far more popular now), Bontempelli can pick up the slack on the inside. The inclusion of Martin will allow English to play more of a forward role – freeing up Bontempelli.
Another reason for the inside improvement? The Bulldogs have narrowed down their midfield mix. We see it all the time in the NBA – when playoff teams reduce their rotation to the 6 or 7 most trusted guys. When a teams in in a do or die situation, they stick with their best players and ride it out.
The Bulldogs must have come to the same realisation because Dunkley is spending far more time forward and Treloar hardly playing inside midfield at all now (attended 3 CBA's vs. Lions). It's a tough call but the right one. Both have missed significant time and whilst they are stars for different reasons when fully fit, they're liabilities if they are playing significant midfield minutes in a preliminary final.
While Treloar has struggled in the high half forward role (he has always lacked positional versatility) you can't replace talent. Just look at Smith, a player who has been maligned for most of this year for his kicking (which is fair) but rises to the occasion with a huge fourth quarter last week from the half forward flank. I mean, the Bulldogs are so deep that their best players are playing out of position and still have the ability to have best on ground performances.
So this is a warning sign for Port Adelaide – this won't be the same midfield battle they had in Round 23 and Hinkley would be well aware of that. Port Adelaide smashed Geelong with their spread post clearance (they lost the clearance count) and pressure to force wayward kicks to easily defendable areas of the ground. This week won't necessarily require more effort than the qualifying final display but they'll have to be smarter with their defensive principles on who provides pressure at the ball carrier.
Port Adelaide would have their own terminology but it's commonly referred to as D1, D2, D3 etc. The closest player to the opposition ball carrier is D1 – who must close that space in front of him up to the ball carrier. That's the easy part. The difficult role is being the D2 – who has to read the cues and close down the space of the next dangerous player in the handball chain. D3 reads the cues of D2 and D1 to assess where the next possession chain is going and so on. Port wouldn't of had to flex these mental muscles too much against Geelong). This week, they'll be required to do it at almost every contest.
I weirdly feel confident in Port Adelaide to get this right. When they are able to cause mid ground turnovers, they punish teams on the counter attack and I expect to see that from them this week. And now to the player who deserves his own discussion.
Allir Allir – Footballer so nice they named him twice
Make no mistake about it, Aliir Aliir will be the main name circled on the whiteboard at the Bulldogs this week. Geelong have shown that allowing Aliir Aliir to get comfortable roaming as a defender will short circuit a number of offensive opportunities for the Bulldogs.
Geelong had the game on their terms for most of that first quarter but continued to kick it to Aliir Aliir. To be fair, Aliir Aliir is a master at reading the play two kicks before it happens and Port put enough pressure on down the field for his positioning to pay off. He amassed 3 contested marks and 5 intercept possessions in that first quarter – completing setting the game up for Port.
The Bulldogs will put time into Aliir Aliir and it'll be fascinating to see who gets the responsibility. In my opinion, there are two options. The first is to play Schache on him and treat it like a forward tag role. Wherever Aliir Aliir goes, Schache follows. His role is to compete in the air and bring the ball to ground in Aliir Aliir's vicinity. It's a luxury the Bulldogs can't really afford given how small the Bulldogs already are.
If Schache has this responsiblity, it means Naughton has to play deep for most of the night unless English is forward. If the Bulldogs are forced to kick long due to Port's pressure around the ball, they don't have much tall representation in the air. It's give or take. They need representation for that rushed kick but can't afford for Schache to play high up the ground and allow Aliir Aliir to drop off and intercept the next kick in the chain.
The other option is to play a medium sized player like Hannan and force Aliir Aliir to respect him up the ground. Much like Lever, Aliir Aliir will drop off on Hannan once he gets up the ground. If the Bulldogs have game planned and identified this match up, they will know instinctually that Hannan will be free on the lead. Game planning for this is risky because it takes buy in from every single player to get it right. If the Dogs kick long to this match up – Aliir will have his way.
But when it works, it forces Aliir Aliir to come out of his comfort zone and defend more up the ground. If the Dogs can't trust Hannan for this role – isn't this the perfect circumstance for Wallis to come in for? A defensive minded forward who is a leader and will play the role to the best of his ability. We wrote this before teams were out and I assume the fact that he hasn't played an organised game in months has hurt his case but it seems like an opportunity gone begging.
Match ups
The big one for the Bulldogs is what to do with Ollie Wines. He has been either close to best on ground (Round 9) or clearly best on ground (Round 23) in their two match ups this year. The Bulldogs must send Dunkley to him from the bounce – a like for like player who will bother Wines as a defensive midfielder.
For how strong Port's midfield has been this year, they are reliant on Wines and Boak to play well. If the Bulldogs put time into Wines, it puts more responsibility on Boak, Drew and Butters to carry the load. This is an area of the ground the Bulldogs need to take advantage of given their depth. Expect Drew to go back to Liberatore, who was excellent last week but was quiet in Round 23.
Amon's the line breaker for Port and gives them a different look in their midfield. He's moved back to the wing in finals but I would love to see him get some inside midfield minutes especially if Port start slow.
The forward/defender match ups are interesting. Both forward lines are quite small – especially Port Adelaide who have opted for only two talls (Dixon + Ladhams). Expect Cordy to get Dixon (Keath is a big out) with Wood dropping off a small at times to chop out. Butters, Rozee and Fantasia are all headaches for the Bulldogs defence.
Expect Duryea to start on Rozee but take whoever has a fast start – similar to his phenomenal shut down role on Cameron after quarter time. Daniel for all of his offensive brilliance will be tested defensively on one of these three – an uneasy risk the Bulldogs must take.
Port's defence is sound and should hold up well against this Bulldogs forward line. I expect Burton and Byrne Jones to take Smith or Treloar depending on which one is forward at the time (or if they are both forward). Smith is dangerous in forward 50 scenarios given his strength and burst of speed – Port have to be locked in defensively and not give him space. We saw last week what happens if teams don't respect Smith.
It's pretty clear the Bulldogs will need something special from Naughton in the air on Saturday night. It's likely McKenzie will get the role and Naughton will have him covered with his size and leap in the air but it's difficult when both Aliir Aliir and Jonas slide in as a help defender. If Naughton can have one of those games where all of his marks stick and his contested marking prowess is unstoppable – it'll go a long way to the Bulldogs kicking a winning score.
Prediction
It's hard to go past Port Adelaide. Bontempelli's can't be downplayed. He's their captain and the best player in the AFL. He does so much both with and without the ball that if he isn't at 100% – it's a tall order for the Dogs. But this midfield is deep and if Bontempelli is forced into a forward role, it affords a Smith or Treloar the opportunity to stand up.
The advantage of Port playing in Adelaide can't be understated either – Port plays the ground so well and will have 99% of Adelaide Oval cheering them on. But can we trust Port Adelaide after so many years of finals disappointment? Everything's swung in their favour and the opportunity is there for the taking, which would make Port Adelaide fans nervous. I have faith they hold up and make it to the Grand Final. Port by 12.
Let us know if you agree.