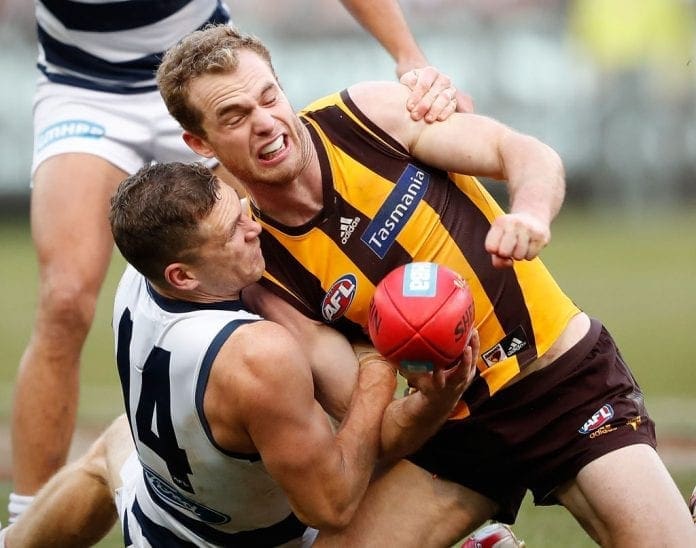 Tom Mitchell is having a down year for the Hawks.
Without a doubt it's hard to perform in a team that has only won two games with a midfield lacking in depth, but there are aspects of Mitchell's personal game that have dropped off this year.
TACKLING
In his first two years at Hawthorn - and for most of his time at Sydney - Mitchell averaged over six tackles per game.
He has always been a good accumulator of the ball, but what made him impactful beyond disposals, was that he hunted the opposition and impacted an opponents exit out of stoppages. If Mitchell wasn't winning the ball himself, he was tackling opponents at the stoppage, or providing pressure on their disposal, to assist his defence down the field. This year (and last year as well) he has averaged just over four tackles a game.
It must be noted that this is likely due to his shoulder injury from last year, which is fair. But it doesn't bode well for a 28-year-old, if this is a long term issue. Now more than ever, midfielders need to be two-way players given the added pace and skill in the game.
Mitchell is still an elite accumulator of the ball, averaging 33.5 disposals this year (as of Round 11) – an improvement of almost 10 disposals a game compared to last year coming back from his broken leg. It's no secret that Mitchell has never really been a "damaging" midfielder (with disposal). Most of his disposals are in tight, in congested scenarios or sweeping handballs to teammates in general play.
RELATED: 2021 AFL Disposal Leaders
Very rarely do you see Mitchell burst out of a stoppage and hit a leading forward for a goal assist – it's just not his game. When he does get time and space going inside 50 – he can be quite wasteful.
But, even as a high-disposal accumulator, this year, Mitchell has been worryingly undamaging.
ACCUMULATING DISPOSALS
His kick-to-handball ratio is badly unbalanced at 0.6.
It's always been skewed because of his play style but compared to last year and his Brownlow year (0.67 & 0.85) – it's a worrying statistic. He's handballing way too much and they aren't effective handballs into space, like, say a Tom Liberatore (it's worth noting that 'Libba' has a number of damaging outside players to dish to – Mitchell has very few).
Part of the reason for his lack of impact is because he isn't riding tackles (which means taking a tackle on to push your momentum forward and handball), which makes you think that the shoulder may be bothering he more than we realise. Look at how he just coughs up the ball when no option is immediately available, instead of taking the tackle and feeding to a teammate ahead of him.
He also rushes kicks forward a lot.
These kicks never seem to have any direction about them, and - again - make it look like Mitchell doesn't want to engage in contact.
CLEARANCES
Another issue with Mitchell's game is the seismic drop off in clearances.
In his first two years at Hawthorn, Mitchell averaged 6.3 and eight clearances a game. In his last two years, the clearances have been at 4.3 and 3.8.
His disposals are becoming more meaningless as he isn't surging the ball forward for his team in stoppage scenarios. He is far more flat-footed now around stoppages. He isn't getting on the move and seems to put less time into his stoppage craft at the contest to create space.
For all the talk about over-handballing, sometimes he is dump-kicking out of stoppages when he actually should handball!
Look at how he receives the handball and kicks a high 'up-and-under' that results in a turnover, whilst you can clearly see Jack Scrimshaw running past for an easy handball-receive, which would have resulted in a far better clearance and F50 scenario for Hawthorn.
Part of this analysis may be too dismissive of the fact that Mitchell went through a devastating injury not too long ago.
A broken leg can take years to recover from – with some players never getting back to their previous form. This - coupled with the fact that Hawthorn are a poor team this year ranking low in important categories like Inside 50's, Clearance, Goal Assists, Points scored etc – makes life harder for Mitchell.
AFL STATS: See the 2021 AFL Stats Leaders!
You can easily take a glass half-full approach with Mitchell, and argue that much of his form this year is actually a slow grind towards eventually getting back to his form of previous years.
Some of the evidence is actually there!
As previously mentioned, he is averaging far more disposals this year than last year (25.8 –> 33.5), his metres gained (a statistic that often backs up Mitchell's lack of damaging disposals) has improved from last year (291mg –> 323mg) and is actually better than his first year at the Hawks.
His disposal efficiency (76.1%) is the best of his career, and his score involvements at 5.4 are far better than last year. This is all while averaging his lowest ToG% since arriving at Hawthorn.
It's hard to make an assessment on where a Brownlow medal winner is at in a team that is finally at the realization point of a rebuild.
Somewhat of a surprise, is how many Hawthorn fans want to trade Mitchell. It makes sense given the timeline of the team but for a Brownlow Medal winner of only three years ago - who has gone through significant injuries - it's overreactive.
Maybe Mitchell himself wants to leave and find opportunities for success elsewhere?
Either way, Hawthorn are going to be an interesting watch at the end of this year in regards to their list profile and decision making. They recruited heavily for a number of mature established AFL players (Mitchell, Jaeger O'Meara, Tom Scully, Chad Wingard, Jon Patton) who now realise that their ambition of playing for a future potential contender in Hawthorn won't materialise any time soon.
Mitchell's future is an interesting subplot in what has been a disappointing year for one of the AFL's historic clubs.
This article was originally published at Footy Talking Points.