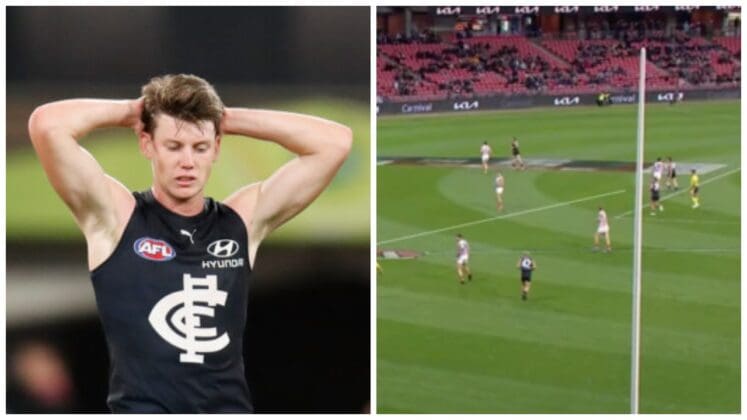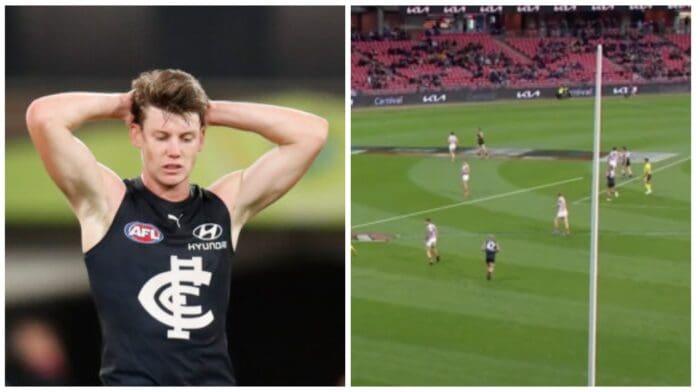 Well, it was bound to happen at some point.
Sam Walsh received the first proper tag of his career by one of the best, GWS' Matt De Boer. And what a challenge it proved to be for Walsh. Except for centre bounces, De Boer tracked Walsh's every move. As you can imagine, his production slipped across the board.
Walsh's AFL rating for the game was a mere 11.4 – far below his usual average. He had 20 disposals but was nowhere near as damaging as his usual self with 10 handballs and only two kicks up until three-quarter time. He struggled to get involved early when Carlton needed him most, before moving to a wing in the final term... but by then the game was mostly over.
This isn't to embarrass or criticise Sam Walsh – most great players struggle with a tag. We've seen this year how more experienced players like Clayton Oliver and Travis Boak have struggled with such attention. But it's the next development of Walsh's game and one that he needs to care about in order to ascend into the top 3-5 midfielders in the league (he isn't too far away).
SAM WALSH
Midfield
Carlton

ROUND 14 STATS

20
Disposals

2
Tackles

4
Clearances
Undoubtedly, a tag hurts a player's ability to spread from contests.
When De Boer follows you everywhere and tracks your running patterns, it makes it almost impossible to have high uncontested mark games – something Walsh does frequently given his gut running and ability to find open pockets of space.
Walsh averages 5.5 marks for the year and was kept to just the one mark on the weekend. These are the kind of leading efforts that Walsh is usually rewarded for game in game out.
Look at how GWS are zoning except for De Boer. De Boer simply cuts you out as an option for teammates to kick to. There's really not much Walsh can do in this instance save a few helpful blocks from teammates.
The common misconception is that to break a tag is to become better at winning your own ball. I'm not so sold on that though belief.
Walsh's contested ball winning capabilities aren't the issue. As discussed in our very first column ever at FTP, he has improved substantially in this area given his role change to the inside.
His split between contested and uncontested disposals this year is 39/61%. This has stayed relatively the same throughout his career even with the uptick in disposals. Compared to other players averaging 30+ disposals (Some of which are considered the elite of the competition), Walsh has a greater contested possession win rate than half of them.
A guy above him in Oliver struggled mightily with the same attention. Even some of the best inside accumulators like a Tom Liberatore struggled with a tag not long ago.
The thing that makes the most sense and something that has always been a knock on Walsh is his positional versatility. Walsh isn't a tall midfielder nor blessed with incredible athleticism or large in size. But he has incredible smarts.
This will help him become a productive forward. He went forward early on in the game but it's a string to his bow that he needs to add on a consistent basis. We saw how when Oliver pushed forward the De Boer tag was released because GWS (and probably De Boer) aren't comfortable playing him as a defender.
Players like Walsh (and Oliver) need to learn to become effective in that kind of role to restrict a drop in their output. Walsh can shake the tag by improving on his forward craft to become a multi-positional player.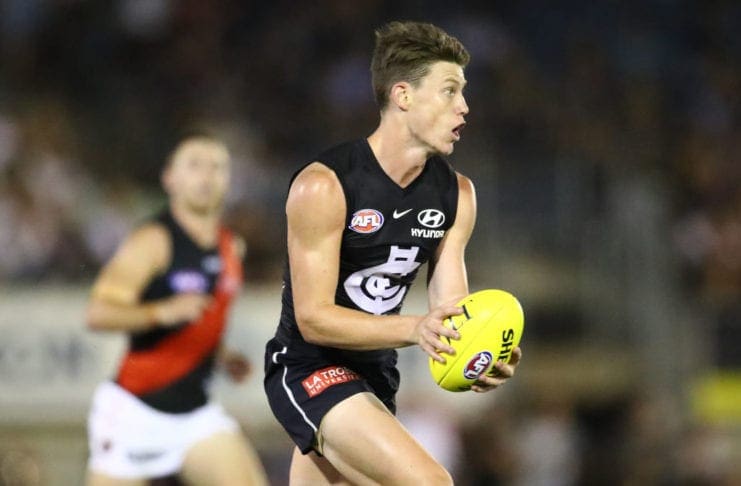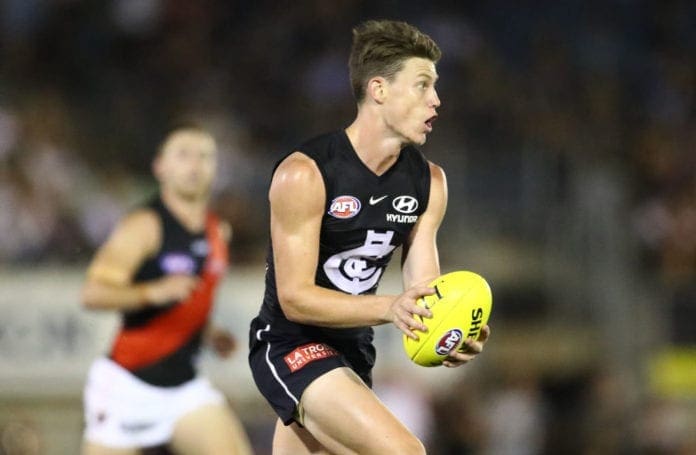 Walsh is smart at reading the play before it happens and positioning himself at the drop of the ball in marking contests. We've also seen how effective Walsh can be as lead up player and he isn't too shabby overhead as we saw last year with his mark of the year.
He went to the wing in the last quarter and that helped get his game going. But the wing isn't going to cut it. Taggers like De Boer are far more comfortable on the wing than playing a defender role.
The tag will continue to come given its success against Walsh on the weekend. His next development to become a true superstar of the competition will be figuring out how to still impact games at a high level whilst breaking the tag.
Some other quick thoughts on this topic:
TEAMWORK BLUES
It's a microcosm of Carlton as a whole at the moment but how little support was given to Walsh? Walsh is their best player and a young leader of the club and little was done to help him out.
There is so little care or cohesion at Carlton right now. Even someone like Cripps who has felt the brunt of such attention for the last 4+ years did little to free up Walsh around stoppages. Which leads into my next thought;
CRIPPS' OPPORTUNITY
Gone are the days of Cripps being the Carlton midfielder getting attention. I think we've all known for some time that Walsh has overtaken Cripps as the more damaging midfielder. But what an opportunity for Cripps!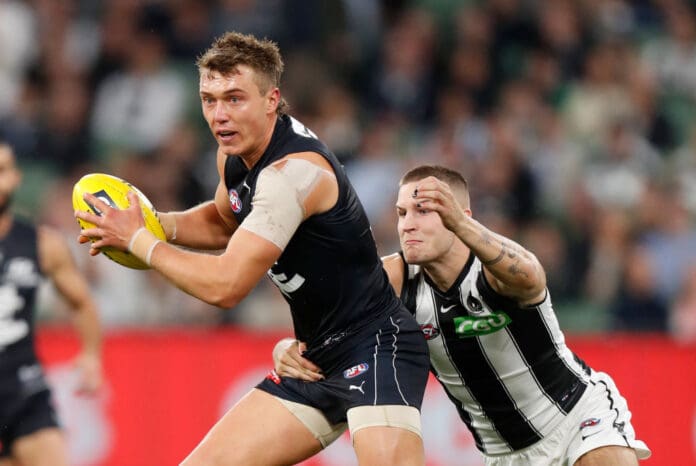 He has a chance to go back to the basics of what made him one of the best midfielders in the competition without worrying about opposition attention. He was able to hit the scoreboard on the weekend but was still one the worst rated players on the ground against the Giants (per AFL Player Ratings);
NOT THE DONE THING, ANYMORE
Why has the tag gone out of fashion? It works well in the majority of cases it is used. Carlton's midfield is far less damaging when Walsh doesn't have his normal output. It puts pressure on other midfielders to step up who aren't able to putting the Giants at a great advantage. More teams need to consider tagging.
This article was originally published at Footy Talking Points.