Its back for Round 7! Zero Hanger's weekly 'five useless stats'.
Every week Aaron Delaporte from Useless AFL Stats will take a look at the top five most useless, but captivating, statistics from the weekend.
Round 7 didn't fail to deliver plenty of stats but here are the most useless ones that you never knew you needed.
1. Friday Night Double Digits
Friday night's 77-55, 22-point win by Richmond over the Western Bulldogs is the 73rd time both teams have scored numerical doubles in a V/AFL game which was also decided by a double-digit margin.
The 11th time it happened Carlton defeated Fitzroy 44-33 by 11 points in Round 14, 1908. The 33rd time it happened Richmond defeated Carlton 66-33 by 33 in Round 14, 1951. The 44th time it happened Hawthorn defeated Western Bulldogs 99-55 by 44 in Round 16, 1963.
We look forward to seeing if we can get a 77-point margin (which has occurred just once when Carlton defeated Geelong 99-22 in Round 4, 1919) in the 77th occasion, expected to take place in the next 3-7 years based on trends for this stat.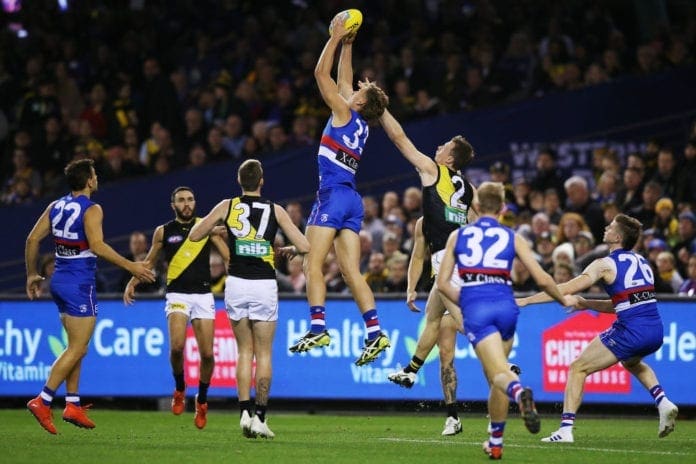 MELBOURNE, AUSTRALIA - MAY 04: Aaron Naughton of the Bulldogs marks the ball against Dylan Grimes of the Tigers during the round seven AFL match between the Western Bulldogs and the Richmond Tigers at Marvel Stadium on May 04, 2019 in Melbourne, Australia. (Photo by Michael Dodge/Getty Images)