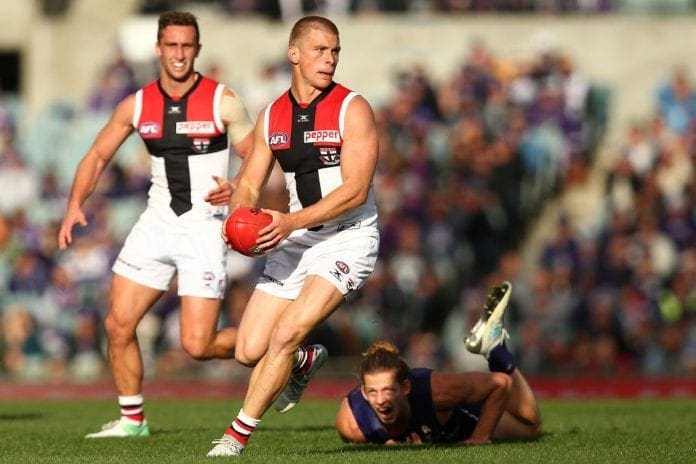 Gold Coast and St Kilda have finalised their lineups for the match at Metricon Stadium.
Saints midfielder is a late out after his wife gave birth to twins on Friday and he decided not to fly to Queensland.
Ross will replaced by Mason Wood, with Alex Sexton (Suns) and Jack Lonie (Saints) the medical subs.
St Kilda WON BY 9 POINTS


Gold Coast

| | |
| --- | --- |
| B | C. Graham, S. Collins, S. Lemmens |
| HB | O. Markov, C. Ballard, J. Farrar |
| C | B. Ellis, H. Greenwood, W. Powell |
| HF | D. Swallow, N. Holman, J. Corbett |
| F | J. Lukosius, B. King, S. Flanders |
| FOL | C. Burgess, I. Rankine, T. Miller |
| I/C | J. Bowes, B. Ainsworth, L. Weller, N. Anderson |
| EMG | A. Sexton, . , . |

St Kilda

IN
J. Lonie
OUT
S. Ross

| | |
| --- | --- |
| B | C. Wilkie, D. Howard, D. Joyce |
| HB | J. Battle, J. Sinclair, N. Coffield |
| C | B. Hill, Z. Jones, H. Clark |
| HF | D. Butler, J. Billings, J. Higgins |
| F | R. Marshall, T. Membrey, M. King |
| FOL | P. Ryder, J. Steele, B. Crouch |
| I/C | J. Bytel, J. Webster, R. Byrnes, M. Wood |
| EMG | J. Lonie, . , . |