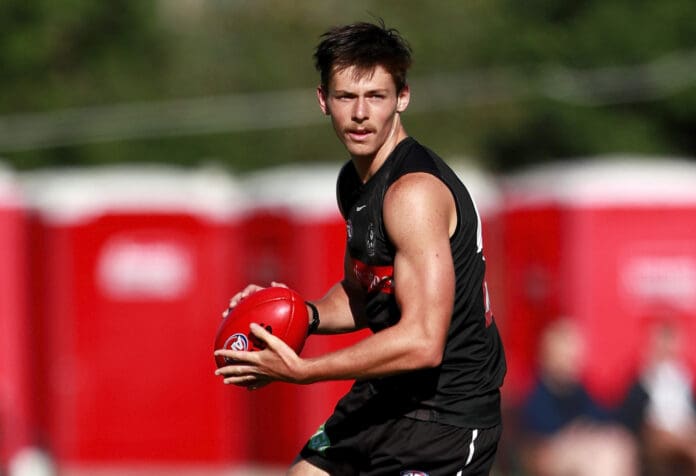 Collingwood's defensive injury woes didn't stop at Saturday night, with first-year backman Charlie Dean suffering a leg injury on Sunday for the Magpies' VFL side.
Craig McRae's rearguard took a hit against the Suns yesterday when incumbent key backman Darcy Moore went down with a hyperextended knee, placing the star defender in some doubt for the weeks ahead.
The Magpies are fearing the All-Australian defender will miss a crucial part of their run to September, with greater reliance to come on their depth.
Their stocks have only been depleted further however, with Dean having his game against the Tigers end early due to injury.
Charlie Dean limping off the ground… hate this sport 😩

— Collingwood FC VFL (@CollingwoodVFL) July 3, 2022
Charlie Dean ice on ankle and on crutches. Safe to say he won't be Darcy Moores replacement.

— PieSource (@piesource1) July 3, 2022
Dean was seen to be in contention for an AFL debut early into the season before suffering multiple foot injuries across the course of the year.
The Williamstown product was also in the selection frame to take on the Suns after Jeremy Howe was ruled out due to a stomach bug, with McRae hinting the versatile defender was close to making his maiden appearance.
Moore's injury on Saturday night was likely to open the door for a debut even further, but Dean now looms likely to join his fellow backman in the club's casualty ward.
Fringe defender Jack Madgen also featured for Collingwood's reserves at Punt Road on Sunday, and could be the first in line to replace Moore for next week's bout with North Melbourne.
Collingwood will likely welcome back Howe for the Round 17 affair, with no injuries occurring in their five-point win over the Suns outside of Moore's.