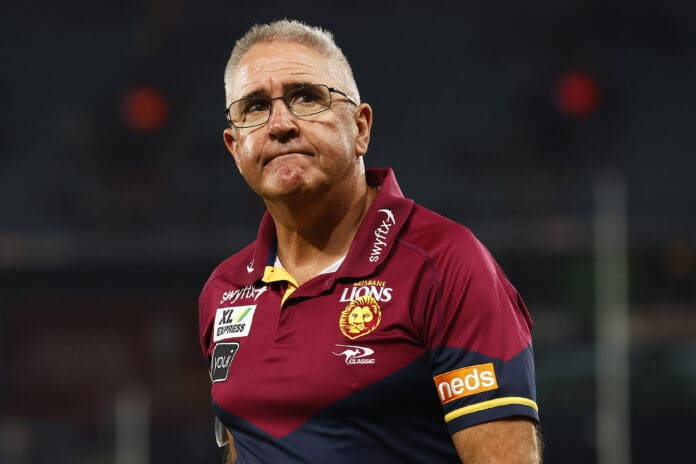 Brisbane Lions coach Chris Fagan has conceded that the use of Darcy Fort as the medical sub was a tactical error following the Lions' 7-point loss to Richmond on Sunday afternoon.
The Lions looked in control for swathes of the game, leading by as much as 42 points at one stage, before conceding the lead in the final term. The incredible Tigers comeback has put a significant debt in Brisbane's premiership aspirations, leaving them outside the top four on percentage alone with three rounds remaining in the home and away season.
Fagan's side was struck by injury early on in the Sunday afternoon clash, with Zac Bailey substituted from the game and taken to hospital for scans in the second term after copping a knock to the chest.
The young Lion was replaced by Fort, a ruckman, on the field as the Lions struggled to overcome Richmond's second half momentum, with Fagan conceding post-game that naming Fort as the sub was the wrong decision.
"That's a fair observation, in hindsight it was the wrong decision to have Darcy as the medi-sub," Fagan told media.
"It's probably something I'd rather keep in-house to be honest.
"I appreciate you asking the question, but we have our reasons and they're good reasons, but in reflection tonight it would've been better to have a running player for sure."
With Darcy Fort the sub activated for Zac Bailey Brisbane now testing whether they can play with 5 Super-tall forwards/ruck:

Hipwood (2.03m), Daniher (2.01m), Fort (2.04m), McStay (1.96m) , McInerney (2.04m)

Huge match up problems but lost a lot of running#AFL #AFLTigersLions

— Mark Gottlieb (@MarkGottlieb) July 31, 2022
The Lions are yet to provide an offical update on the injured Bailey, with Fagan rueing the loss of the young star for the second half as the side dealt with other injury complaints.
"Losing Bailey hurt us, with a bit of run, then Keidean Coleman kept cramping up in the last quarter and Jarrod Berry hurt his ankle, so we were a bit out on our feet in the second half. And that's not to take anything away from Richmond, but from our point of view they're three pretty important running players and in the end they weren't functioning in a tight finish," Fagan said.
With three rounds remaining, Brisbane sit in fifth spot with a 13-6 win-loss record, mirroring that of the fourth placed Swans.
The Lions now face Carlton, St Kilda and Melbourne in the run home, looking to consolidate a top four spot and the highly sought double chance.