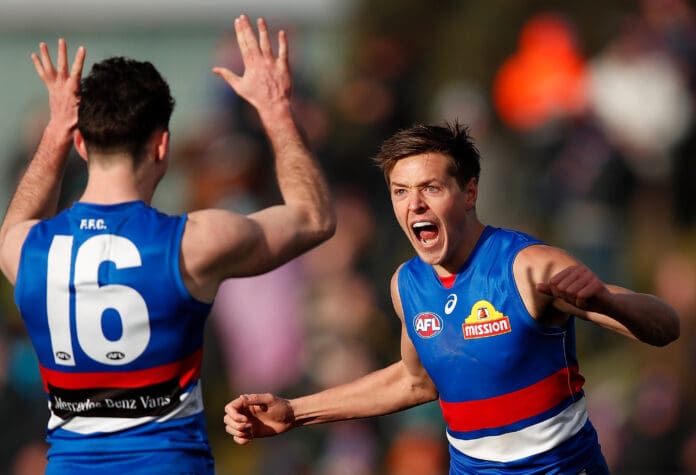 Former Western Bulldogs forward Fergus Greene is hopeful of a potential AFL return following an impressive season with Box Hill.
Greene was delisted by the Dogs at the end of last year, having played just the five games during his time at Whitten Oval - his latest coming in 2018.
The 23-year-old first joined the Bulldogs via the 2016 National Draft from the Bendigo Pioneers and soon faced a string of injuries to limit his exposure at AFL level.
Greene booted five goals in the top flight, playing all of his career matches between rounds 19-23 to conclude the 2018 campaign.
After facing further setbacks at the Kennel, Greene was axed from the Bulldogs and soon joined the Hawks' VFL squad for the new-look second-tier competition.
The Hawks forward booted 30 goals from his nine appearances for Box Hill in 2021, and has now gained some interest from AFL clubs despite the small sample size due to the VFL's battle with the COVID-19 virus.
Speaking to The Leader's Paul Amy, Greene spoke of his aspirations to make a return to the AFL landscape.
"Yeah, I'd love to get back on a list,'' Greene said.
"It was really disappointing to finish up at the Dogs the way it did. In 2019, I pretty much missed the whole year with injury and then with 2020 there was no VFL because of Covid so I couldn't really get my game going in the reserves to get a call-up.
"It was frustrating to leave things like that. That's why it was nice to have a reasonable year with Box Hill Hawks, just so I could say, 'I'm still around the level'."
Greene also confirmed to Amy that he has received a "little bit" of interest from AFL clubs, who could look to select the former Sandhurst player via the upcoming Rookie Draft on November 26.
Clubs could also look toward the Pre-Season Supplementary Selection Period early next year, with Nick Murray (Williamstown), Lachie Bramble (Box Hill) and Anthony Scott (Footscray) joining the league from VFL clubs in 2021.
The delisted free agency is another avenue for Greene, with former Lion and South Adelaide swingman Sam Skinner gaining a reprieve with Port Adelaide in the first window of the exchange period following an impressive year in the SANFL.
AFL clubs will have until November 15 to recruit any further delisted free agents and finalise their next list lodgement prior to the National Draft, which commences on November 24.