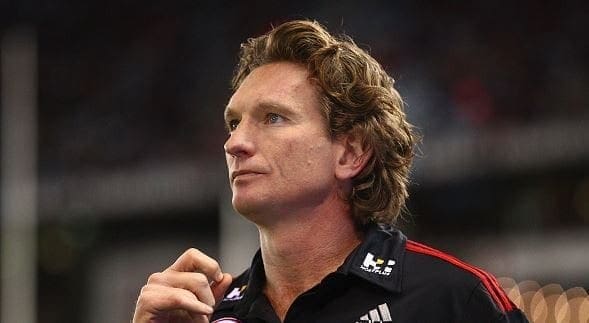 Former Essendon coach James Hird has been backed to return to the AFL coaching scene from former Bombers captain Brendon Goddard and former coach Grant Thomas.
With Ben Rutten set to take over the Essendon coaching reigns full-time from John Worsfold in 2021, Goddard told the Herald Sun's Sam Landsberger that Hird could provide the perfect asset to Rutten going forward.
"If they actually think it's a good fit and there's a role there for him, then I'll be all for it – I'd love to see him back in football," Goddard said.
Goddard said that Hird's care and empathy for the players was what made him stand out as a coach at his time with the Bombers.
"He was a great players coach. He took time out, particularly at the start when he wasn't distracted with all the other stuff,"
"He wanted to chat to them and understand life away from football and he was growing great relationships with his players."
Unpopular opinion. The last time Essendon players actually cared about a game and played for their manager was when we were coached by James Hird. 🔴⚫ #AFLSunsDons

— Maiks (@juzz_18) August 12, 2020
Thomas, who coached St. Kilda for six seasons in the 2000s, almost echoed the sentiments of Goddard about the idea of Hird playing a senior role to Rutten.
"If Ben's the match-day coach and he's doing all that stuff and someone like a James Hird is running football, I think that's a perfect scenario," he said.
"That probably lends itself more to the structure required in AFL football going forward rather than the quite vulnerable and susceptible and antiquated way that we've currently gone about throwing quite inexperienced and unqualified people at senior coaching roles."
Hird was sacked as senior coach towards the end of the 2015 season following a poor string of results and the infamous supplements saga, but Thomas is unsure what Hird has to answer to should he return.
The one and only time Essendon committee made a correct coaching appointment since 2004, was in 2010 when they appointed James Hird. Its time to bring Hirdy back https://t.co/gqUX4mjE8H

— Magoo (@jomagoo68) August 9, 2020
"I know he's been accused of a lot, but I don't know what he's guilty of," he said.
"I think it would be enormous for James Hird and an opportunity for a door to be closed and a new phase of his football life to start."