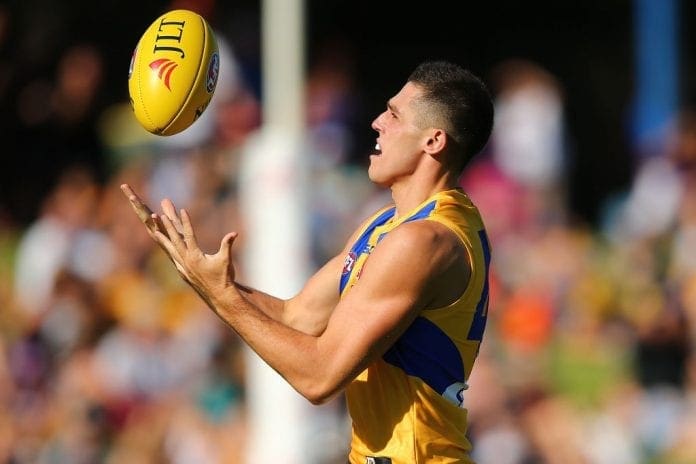 West Coast CEO Trevor Nisbett has had his say on reports identifying at least five Eagles players at a Perth nightclub after last week's loss to Richmond, revealing he was "disgusted" at the news.
Jackson Nelson and Josh Rotham were the first two players to come under scrutiny, with 9 News later revealing that Jake Waterman, Rhett Bazzo and Campbell Chesser had joined the pair.
"I was disgusted, to tell you the truth," Nisbett told ABC Radio.
"It is something you just don't think is going to happen with all the education and the things we've been doing in the last two and a half years really.
"From a club perspective, we are still going through the investigation to find out why the players did this and the second part is to find out if there are any other players involved. And there are consequences for that."
West Coast are currently in the midst of a selection crisis, with injuries and COVID taking a toll on the club. Nisbett's criticism was firm, revealing that players were specifically told to stay away from nightclubs to avoid the risk.
"They know the circumstances we're facing as a football club, and the circumstances that they've put us in with going out on an eight-day break," Nisbett said.
"They can make as many excuses as they like – but it is just not good enough for elite athletes to do that under these circumstances.
"Our players were given specific instructions not to be at nightclubs. There is no excuse.
"There is no explanation that can explain that away, albeit they may say lots of things and reasons why – there is no excuse given they were given specific instructions and guidelines."
Matthew Knights, who was standing in for Eagles coach Adam Simpson after he entered COVID protocols, remained more placid after Saturday night's loss to Brisbane, revealing that he hadn't spoken to the players in question.
"Other people in the right places that control that element of the investigation, which will be investigated for the next week, will take care of that," he told media after the game.
"I was here to coach a football team.
"(The behaviour talk will) be taken care of next week by the appropriate people."
West Coast return to Perth for Round 9, taking on Melbourne on Sunday afternoon.