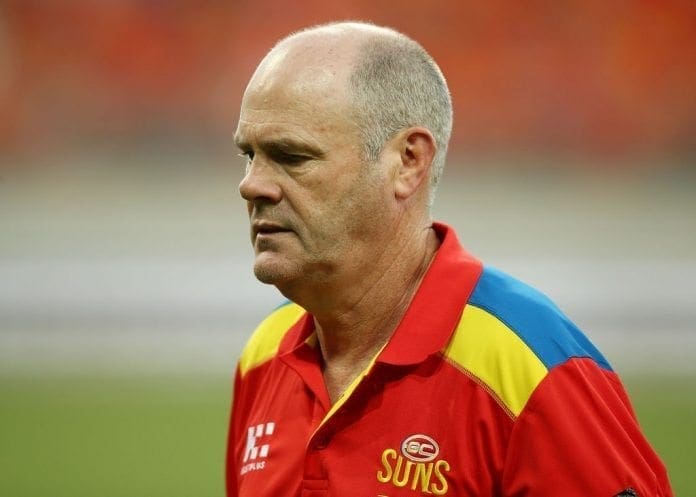 Sacked Gold Coast coach Rodney Eade says he would not have accepted the coaching role had he known the full extent of the problems at the club.
Eade was sacked as coach of the side after winning just 16 of 63 games in charge of the embattled club.
During his tenure, the Suns lost key players Charlie Dixon, Harley Bennell and Dion Prestia to name a few, to rival clubs. There were also several off-field incidents which engulfed the club.
On top of the evident culture problem, the club was also forced to work in sub-par training and football department facilities prior to the new facilities being completed late last year.
Eade told ABC Radio on Saturday he was completely shocked at how bad things were at the expansion club.
"There were a lot of things that surprised me and keep happening," Eade said.
"You turn over another rock, whether it's June or July. There's a few things that got out publicly but there's a lot of things I'll keep in house as well that people don't know about. All those factors involved, no I wouldn't have done it.
"Some of the parts of the footy department, like the high performance and medical and that was really average as well, so there was parts that they (the board) should have known, no doubt. I don't think they did know to the extent the cultural things, probably a lot of people didn't.
"Should they have known? I think all good clubs would know."
Suns chairman Tony Cochrane said last week when announcing the news, the decision to sack the veteran coach was based purely on lack of results.
"We had a strong belief at the start of the year that we would challenge for the top eight this year, and we simply have failed," Cochrane said.
"We're simply in the same position as we were three years ago and that's not good enough for our board.
"It doesn't matter how you assess it, the wins-losses ratio is not what we want it to be, not even close.
"This is an industry, a sport judged by wins and losses … we have to look to our future. We have to deliver better results, especially for our members, our supporters and our Gold Coast community.
"He (Eade) was very dignified last night but was obviously disappointed. He didn't agree with the decision but accepted it."
The Suns were beaten by 58 points by cross-town rivals, Brisbane, at the Gabba yesterday in caretaker coach, Dean Soloman's first match in charge.
The Suns had won six of 19 matches in 2017 before Eade's sacking.