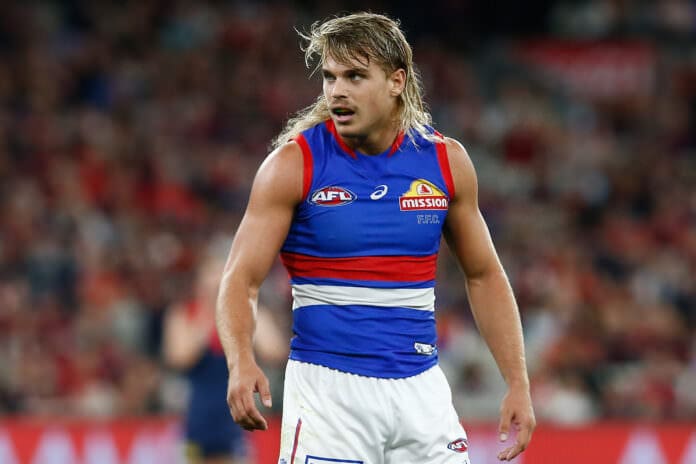 The Western Bulldogs are investigating images that appear to capture star midfielder Bailey Smith in possession of a white substance.
Footage and images of Smith have circled on social media in the past 24 hours, with the club revealing that the video took place while Smith was on leave from the club last year.
In a statement released via the club, Smith apologised for his actions and took full responsibility.
"I have recently been made aware of the presence of social media content that shows me with an illicit substance," Smith said.
"In confronting this, the temptation is to speak in vague generalities and avoid the issue.  However, I am determined to learn the lessons of my past and be a better person in the future.
"After much reflection, I am now in a position to confess to indulging in behaviours in late 2021 of which I am deeply ashamed.  I do not have an excuse for those behaviours, however the state of my mental health over that period post Grand Final dramatically deteriorated, and I spiralled out of control leading to poor decision making and actions at the time. All of this resulting in the leave I took from football at the commencement of pre-season training late last year.
"The depth of my emotions over that period, coupled with some of my behaviours, have reminded me that, as a person, I am still very much a work-in-progress.
"I know I have obligations beyond myself, not just contractually – but in terms of the example I set through the decisions I make, and I will be better.
"I have made mistakes.  I am very aware of that, and I fully own it.
"I unreservedly apologise to my family, my teammates, my club and its sponsors, the AFL, my supporters and my sponsors.
"I have made mistakes, but I resolve to learn from each and to do all I can to avoid letting myself down, and those around me."
The AFL released a statement on Saturday evening, revealing the league will hols talks with the young midfielder in the coming days.
"The AFL was today contacted by the Western Bulldogs Football Club and Bailey Smith's management team in relation to content circulating on social media," the statement reads.
"The AFL acknowledges Smith's statement this afternoon. AFL Players are well-educated when it comes to the harms associated with the use of illicit substances, and have a responsibility to themselves, their clubs and their professional careers to uphold community expectations.
"The AFL will interview Smith in the coming days in relation to the emergence of the content on social media and the context surrounding it.  An outcome of that investigation will be communicated in due course.
"Smith is currently on suspension from playing in relation to an on-field incident in Round 12."
Smith is likely to face a suspension and financial punishment as the AFL Integrity Unit and the Bulldogs investigate the matter.
"If it turns out to be what it looks like, I have no doubt that there will be a suspension and potentially a fine," reporter Caroline Wilson told 3AW. 
In 2018, former GWS Giants ruckman Shane Mumford was handed a two-game ban and a $25,000 fine after footage showed him snorting a white substance.
The suspension was club imposed by the Giants, with the footage having initially been taken three years prior to the sanctions.
Geelong great Jimmy Bartel drew some attention to Mumford's punishment, however raised some intrigue into how the AFL will reach a decision on Smith.
"He's going to feel the full heat of public attention from this and how it's managed from the Bulldogs, his management, himself personally it will be interesting but I'm more interested to see how the AFL treats this," Bartel said.
"Because he is the poster boy for even a young generation that exists in the AFL.
"It'll be interesting to see [how] the AFL handles this.
"Just a bit of a reference point, when Shane Mumford had his video coming out they handed him a two-game suspension."
Smith is currently suspended for two matches after headbutting Geelong player Zach Tuohy in his side's Round 12 loss to the Cats, with any additional ban set to extend the 21-year-old's absence.