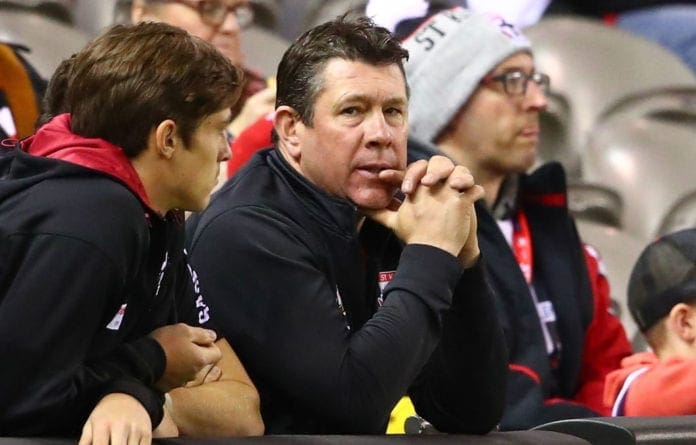 Former St Kilda staffer Ernie Merrick has come in to bat for axed senior coach Brett Ratten, taking shots at president Andrew Bassat and the club's "disgraceful" handling of their contracted coach's exit.
Many have come to the defence of Ratten in the wake of the second sacking of his career, with the Blues great having also seen his time in Carlton's coaches box come to an abrupt end despite a promising record at the helm.
At the end of his fourth season at Moorabbin, and only within 100 days of his recommitment to the Saints, Ratten was shown the door before the likes of Bassat and CEO Simon Lethlean moved into discussions with former St Kilda coach Ross Lyon.
Merrick, a mentor of Ratten's throughout this year with the club, has labeled the Saints' decision as 'disappointing', revealing his part in the club's review process and reaction to the chock outcome.
"It's one of the worst I've seen,"  Merrick said of Ratten's axing on SEN.
"I was part of the review process the day before he was sacked, and I think the decision was already made.
"I was just ticking a box to check on my belief of his performance.
"I only spoke with two people, one was the President one was the CEO.
"The CEO I thought was very fair and honest … but I'm afraid (with) Andrew Bassat I felt the decision was already made.
"I was so disappointed, whatever argument was presented to me for removing the coach I countered.
"They say it's a results-driven business that we're in … but it's really not performance-related, it's usually someone who makes a tough call without the expertise or knowledge behind them I would say."
Ratten was given an opportunity early last week to make his case to St Kilda bosses to potential hold onto his position, an offer that had been highly criticised externally.
But Merrick also condemned the decision, calling it "disgraceful".
"That's quite disgraceful really," Merrick added.
"It's demeaning, it's not called for.
"Being in coaching for a while you win a game, you go in the change room and everybody's happy and everyone's supporting you.
"But as soon as you lose a couple of games, no one wants to know you, you don't get the same characters supporting you and you can tell that some are ready to jump quickly."
The Saints are expected to appoint Lyon as Ratten's replacement in the coming days.