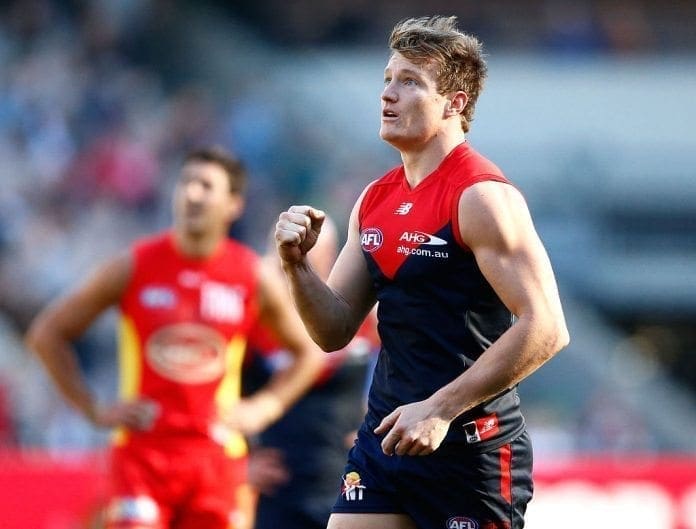 Tough Melbourne midfielder Aaron vandenBerg has suffered an injury setback with his heel and will spend another eight weeks on the sidelines.
VandenBerg played 14 games for the Demons last season including the last five for the club, but hasn't seen any AFL action in 2017, with his heel injury now set to see him watching from the stands for at least another two months.
"That heel just isn't settling the way we'd like, unfortunately for Aaron," Melbourne Elite Performance Manager Dave Misson told Melbourne TV.
"We're just going to get a couple more opinions and just make a decision on where we'll go from there.
"It's an unusual injury and very difficult for him. It's another disrupted season, but we're hoping to get some good information in the next week or so and organise a plan of attack from there."
Youngster Pat McKenna has also suffered an injury setback, with his hamstring now keeping him out until August.
"Paddy had a setback last Saturday in his rehab," Misson said.
"He got a surgical opinion and we decided to go ahead with surgery, which he had last Thursday, so at least we've got some definitive timelines around Paddy now, which will be 10 to 12 weeks."
In other injury news, Angus Brayshaw will be assessed on a week-to-week basis, while key forward Jesse Hogan continues to enjoy some rest before returning to the club following surgery to remove testicular cancer.
"Jesse saw the surgeon on Monday and he was really happy with how the wound looked and with how the operation went," Misson said.
"He's headed back home for a few days of 'R and R' (rest and relaxation) with his family, so we'll touch base with Jesse when he comes back on the weekend.
"Gus has started running, and he had a running session on Tuesday, so he's essentially back working with the group now and we'll just take that week-by-week."