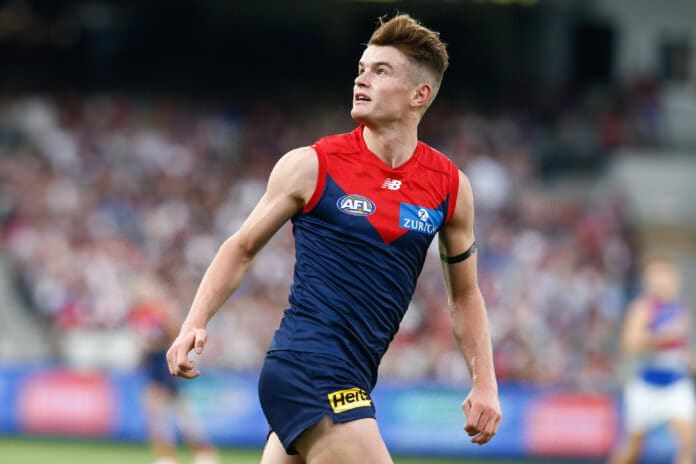 The Demons have announced that injured forward Bayley Fritsch will miss 7-8 weeks with a significant foot injury suffered last Sunday.
Fritsch, who was substituted out of Melbourne's loss to the GWSGiants in Alice Springs last Sunday after he landed on his foot awkwardly in an early marking contest, underwent surgery on Tuesday to repair the consequent fracture in his foot.
Demons club Doctor Laura Lallenec shared the latest on Fritsch's injury.
"You would have seen he had a little bit of a roll of his ankle and that has resulted in a fracture in his foot," Lallenec told Melbourne Media.
"He actually underwent surgery this morning and that's gone really well.
"The plan at this stage is to let him recover after his surgery and then building back up to playing.
"We're expecting a return to play of approximately seven to eight weeks at this stage, but we'll see how he goes."
Meantime, sidelined superstar midfielder Clayton Oliver may return this week when the Demons face St Kilda at Marvel Stadium on Saturday night.
"He's going well, returning to training this week," Lallenec says.
"He'll continue to progress. He's still got some things to tick off in his rehab and we should know later this week whether he's available this weekend."
Melbourne's meeting with the Saints is scheduled for 7:25 PM (AEST) this Saturday.