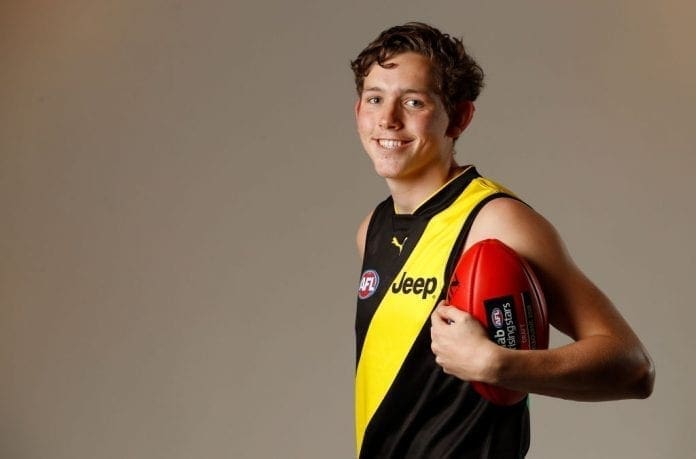 Delisted free agency began yesterday, and all the off-season hard work will start to show as a number of delisted players are in line to be given second opportunities at AFL level.
Collier-Dawkins is one of the many players that were delisted during the off-season as clubs freed up space for incoming trades, free agents and draft spots.
He was drafted with Pick 20 in the 2018 draft and has not been offered a contract for his fifth year in the system.
Dawkins spoke to 7 News and shared his journey over the last few months.
"I've got a desire to play at the best level and see how good I can be," he said.
"I'm taking every measure and every day is an opportunity to get better."
Collier-Dawkins uses his experience at the Tigers and his bank of skills to keep his confidence and hopes high as the delisted free-agency period is now open.
"Certainly felt and have got some evidence to take out of it that I can do it, and I know what it takes to get there," he added.
"I've got a lot of speed and power, and I think that's something in the modern game that really separates the best teams from the good teams."
The 22-year-old hasn't lost all hope left and is keen to explore his opportunities to ensure he has a contract next season.
"There is preliminary discussions with a fair few clubs which is giving me a lot of hope, but until something's official, obviously you never know," he said.
"I'm just gonna be ready no matter what."
Delisted free agency has begun today, with footballers around the country hoping to learn if they'll be given a second chance in the AFL. After being dumped from the Tigers, Riley Collier-Dawkins is determined to prove his knockers wrong. @cleary_mitch @7AFL #7NEWS pic.twitter.com/vUmnNQnmsk

— 7NEWS Melbourne (@7NewsMelbourne) November 3, 2022
Christian Woodford, a sports scientist, has been training Collier-Dawkins for over a month and has been looking over the progress that has been made by the ex-Tiger.
"He's put on 4-5 kilos and he's an inside ball, so we just wanna keep getting him stronger and more powerful," Woodford said.
Delisted players that have not found a club like Dawkins include Mitch Wallis, Liam Stocker, Tom Phillips, Jed Anderson and Quinton Narkle.
The off-season work will indicate if these players will be granted a second chance to prove their worth. After the opening day of delisted free agency, there have already been two signings, with Francis Evans and Fergus Greene joining Port Adelaide and Hawthorn respectively.