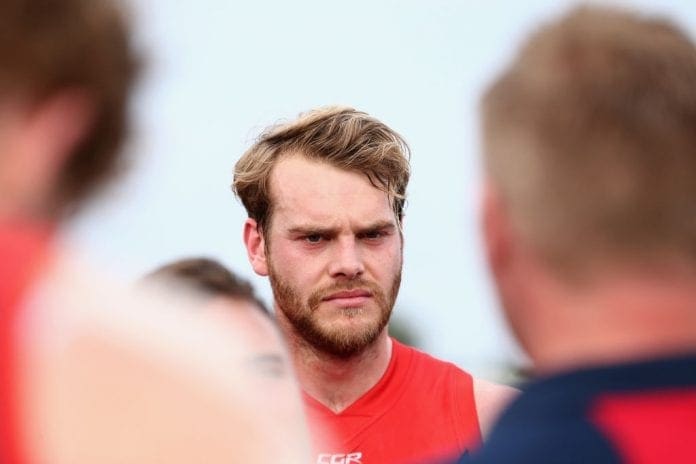 Jack Watts' talent is undeniable. However, the Dees have grown frustrated with his work rate and consistency and have placed him on the trade table.
So what is the former No.1 draft pick who "should be a much better player than what he has played so far," worth in a trade according to his current coach Simon Goodwin?
Geelong list manager Stephen Wells revealed yesterday the Cats were unlikely to land Watts due to being unable to meet the Dees' demands.
"We are unlikely to be able to do a deal for Jack to come to Geelong. We haven't offered Jack a contract. We don't like to commit to a player unless we think we can get the deal done, but that doesn't mean something won't change in that regard in the next week or so," Wells said.
Port Adelaide remain the front runner following Wells' revelation, but what would they have to give up to secure Watt? According the Demons, an early second round draft pick.
"We met with Paul Connors (Watts' manager) yesterday and he said there were several clubs interested," Melbourne football boss Josh Mahoney told AFL Trade Radio on Thursday.
"(An early second-round pick) that would be around the mark that we're looking for.
"It's got nothing to do with financial.
"I think we all acknowledge his talent and the fact he's been able to have some good games over the years but our frustration - if you want to use that word - is consistency.
"It hasn't got the stage were we're dealing directly with clubs, it's still a matter of Jack exploring his options."
Watts has played a total of 153 matches for Melbourne since making his debut in Round 11, 2009 against Collingwood.
He played 16 games in 2017, averaging 15.7 disposals and kicking 22 goals.
He missed rounds 14 – 17 due to a hamstring injury and was dropped from the senior side after the Demons' loss to GWS in Round 20, missing the next two weeks, before returning to the team in Round 23.