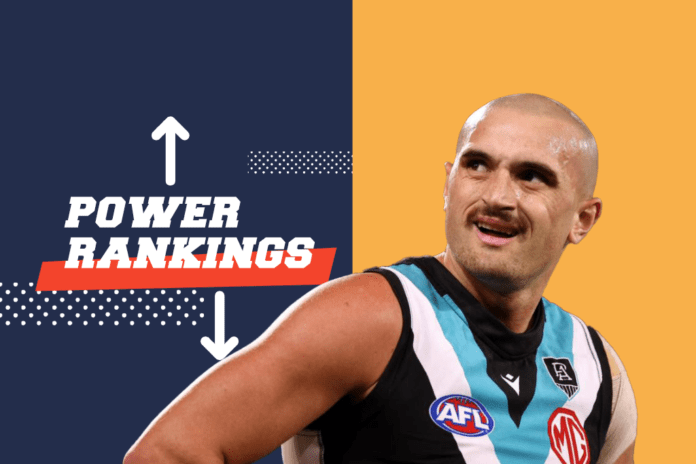 Round 4 of the 2022 AFL season had it all - injuries to key players, shock results and plenty of drama.
There now remains one team unbeaten after four games - last season's premiers Melbourne - while Port Adelaide are the only team still chasing a win.
See where your team sits after Round 4 👇
1. Melbourne
Four rounds in, the Dees are the only team still unbeaten and are already establishing themselves as the team to beat - again.
The reigning premiers have battled through a number of injuries to start the season but you wouldn't know it, and they again appear to be the standout side in the competition.
The Demons can play ugly at times but what's most impressive is their ability to score so quickly and put a space on their opposition in a matter of minutes.
2. Brisbane
Given their fixture so far, Friday night's loss to Geelong was Brisbane's first real test in 2022.
And while they didn't win, the Lions lost no admirers in a 10-point loss where a few key decisions went against them.
Either way, Geelong are always hard to beat at the Cattery and Brisbane proved they'll be around the mark in 2022.
3. Geelong
Given they beat the Lions on Friday, you could make an argument to say the Cats are unlucky to be below them.
The reality is though, 2nd or 3rd doesn't make much of a difference in the grand scheme of things.
What we do know is the Cats will again be hard to beat at home and will likely be top four contenders - again.
4. Sydney
While it's true a win is the main thing, it will be of some concern that the Swans fell across the line against a North Melbourne side who were coming off a 100+ point drubbing.
Yes, the Roos needed to respond, but so too did the Swans given their lackluster display in their Round 3 loss to the Western Bulldogs.
At the end of the day, they sit 3-1 and their form across the opening fortnight suggests they'll be one of the best teams throughout 2022.
5. Carlton
That massive 'thud' you heard over the weekend was Carlton coming back to earth.
Sunday's effort was a diabolic loss and, despite all the promising gains made to start the year, we now start to ponder whether they are a one-man team as they struggled badly when Patrick Cripps went out of the game.
We shouldn't read into one bad loss too much, but the second-half fadeout against Hawthorn the week before wasn't great either. If they lost that instead of falling over the line, things may appear very different ...
6. St Kilda
Speaking of things appearing very differently, if only St Kilda didn't butcher things in their Round 1 game against Collingwood...
The three wins since have been that of a good side and, while a 3-1 record is nothing to sneeze at, there'd be a genuine buzz about the Saints if they were 4-0.
People are still needing to be convinced St Kilda are the real deal, but they're taking steps in the right direction.
Perhaps most importantly, they appear to finally be getting the best out of Brad Hill.
7. Fremantle
Like St Kilda, a 3-1 record could easily be 4-0 had they not dropped a game they seemed to be well in control of in Round 2 - ironically, that loss coming at the hand of the Saints.
There are questions around the three sides the Dockers have beaten - Adelaide, West Coast and GWS - but all you can do is beat who you play.
In their next five games, the Dockers are due to host Carlton and North Melbourne, and face away trips to Essendon, Geelong and Gold Coast - if they're the real deal, three wins from that run is the bare minimum.
8. Richmond
I wrote last week that the Tigers' dynasty is officially done and they can't win the flag.
READ MORE: Lions roar, Port poor - AFL Power Rankings Round 3
Did I go too soon? I don't believe so, because I also said "they'll win their fair share of games this year."
And that's exactly what Richmond proved on the weekend - they're better than more teams than not, but they're just not quite genuine premiership contenders.
9. Western Bulldogs
Things just aren't quite clicking for the Bulldogs at the moment.
They needed a sub-par performance from Sydney to get over the line in Round 3, and have otherwise been beaten by Melbourne, Carlton and Richmond.
None of the losses have been embarrassing as such, but they've been comprehnsive at the same time.
Have they got a runners-up hangover?
10. Gold Coast
A 2-2 record really sums up the good and the bad of the Gold Coast Suns, who are as up and down as they come.
A solid Round 1 win in Perth was followed by a brave loss to Melbourne - probably challenging the Dees more than any side has this year.
Round 3 was simply not good enough, never really in the game when losing to GWS - which is the Giants' only win for the season - before a dominant display over the previously unbeaten Blues.
Can they be consistent enough to be taken seriously?
11. Collingwood
The Pies weren't exactly bad on Saturday, just wasteful - they kicked 10.14 compared to the Eagles' 14.3.
That said, the reality is they lost to a previously winless West Coast - in Melbourne - and, given their early-season form, it was a big shock.
Is this a sign of things to come, or a blip on the radar?
On a positive note, how bloody good is Nick Daicos?
12. Hawthorn
Things started brightly under new coach Sam Mitchell, but the reality is the club's first two wins came over the worst two teams in the competition - North Melbourne and Port Adelaide.
While the fightback against Carlton in Round 3, where they fell agonisingly short, was admirable, the Hawks were incredibly ordinary in the first half.
Given most had the Hawks pegged for a bottom four spot in 2022, is the first half against the Blues and Sunday's loss to the Saints reflective of their true colours starting to emerge?
13. GWS
It's easy to forget the Giants won a final in 2021, because right now they couldn't look further from doing that again.
A 1-3 record is ordinary, and so too is an average losing margin of five goals.
Leon Cameron and the club have publicly declared contract talks will wait until the end of the season - is this saving them from coming under more scrutiny?
14. Essendon
The Bombers claimed their first win of the season over a gutsy Adelaide, falling over the line by four points.
You'd have to think the playing group will take plenty of confidence from the win, and some have suggested a 0-3 start wasn't as bad as it seemed given they'd played Geelong, Brisbane and Melbourne - a trio of top four teams from last year.
The win over the Crows will keep the wolves at bay, but, with a second-straight finals appearance the expectation, they'll need to do more than defeat a likely bottom four side by under a kick.
15. West Coast
It's been a tough start to the year for the Eagles who deserved their breakthrough win, if for nothing other than persistence through a horrible hand they were dealt.
They might have been a bit fortunate given they kicked 14.3 to Collingwood's 10.14, but they were owed their fair share of luck and in the process knocked off a win away from Perth.
With three of their next five games at home, as well as a trip to a winless Port Adelaide, is there enough to suggest the Eagles might yet make a challenge for a finals berth?
That, of course, will be made much harder by the absence of Nic Naitanui.
As they say ... When it rains, it pours!
16. Adelaide
The Crows were predicted by many to be a bottom four side in 2022, so a 1-3 record after four rounds doesn't surprise anyone.
However, they've been more than competitive thus far - two of their losses have come by under a kick - one point to Fremantle in Round 1 and Saturday's four-point loss to Essendon - while their Showdown win came with a goal after the siren.
While game management will come through more experience among Matthew Nicks' rebuilding side, fans will be more than happy to see them in the game in the closing stages.
17. North Melbourne
While North didn't get the win on the weekend, the manner of their loss was far better than that of the week prior.
We all know where North are at, and the reality is they're unlikely to start favourite against any team in the competition for the rest of the year.
But the win-loss column is far less relevant for the club than their competitiveness, and efforts like Saturday's against Sydney will be seen as a pass mark.
18. Port Adelaide
Things seem to go from bad to worse for a side many expected to be in the top four in 2022.
Instead of the top four, it's 0-4 to start the season and the reality is the scoreboard flattered Port in their 32-point loss to the Dees on Thursday night.
They are missing key players and they were in front when the siren went in the Showdown, but they're going to need to get on a roll if they're going to push for finals in 2022 - and that's if those chances aren't shot already.