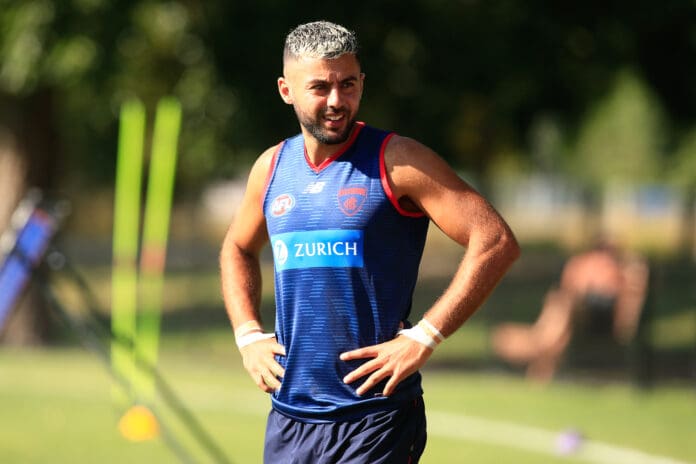 Melbourne has announced that premiership-winning rebounder Christian Salem has entered the selection frame for the first time this season.
Salem, 27, has faced multiple setbacks throughout the course of 2023, hampered with a thyroid complaint as well as suffering a knee injury en route to May.
Due to the stellar form of young Dee Judd McVee, Salem is no certainty to earn senior selection this weekend. However, after undertaking a strong block on the training track, the former top-10 draftee is pressing a strong case.
"He's had a fantastic block of re-conditioning," Demons High-Performance Selwyn Griffith told Melbourne Media on Tuesday.
"He's been back training with the main group for two weeks now, completing full sessions.
"[He completed] match-load running on the weekend, and he'll train fully this week, to be available for selection."
Meanwhile, Griffith also announced that veteran forward Tom McDonald had made strides toward a return of his own after sustaining an ankle injury at VFL level.
"He had sustained an ankle sprain a couple weeks ago and was able to get himself up for the Box Hill game in the VFL, and we were confident that he would continue to progress to be available for the weekend," Griffith said.
"Unfortunately, he just wasn't able to feel comfortable for our main training session…so we used the weekend just to allow that to settle and he'll re-integrate into training this week."
However, it is not all roses for Simon Goodwin's wider squad, with former Saint Luke Dunstan straining a medial ligament. The 28-year-old is tipped to miss between 3-5 weeks.
Since joining the Demons after eight seasons at Moorabbin, Dunstan has found it tough to shake life on the fringes, featuring for the Redlegs on just five occasions with zero opportunities arising in 2023.
The South Australian's contract with the club is set to expire at the cessation of this season.
Kye Turner (groin) and Will Verrall (pelvis) are still both 5-6 weeks away from a return from respective ailments.