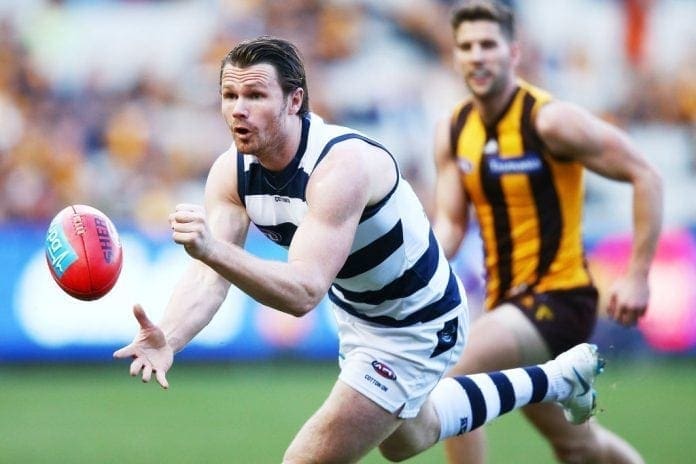 Geelong superstar Patrick Dangerfield will still draw on inspiration from a first-year conversation he had with former Adelaide teammate Simon Goodwin to help drive the youngsters at the Cattery.
Dangerfield is returning for his 12th pre-season along with fellow other senior members this week, and is well aware time is running out for him to claim a maiden premiership.
While senior members are expected to identify and capitalize on crucial moments during the 2019 season, Dangerfield said he'd like to see younger players also mount pressure and seize the moment.
The 28-year-old spoke to the media on Tuesday saying youngsters should want to be a little impatient when the hunt for the flag is on.
"I'm an impatient person, and all our leaders are because they understand that the end is closer than the beginning," Dangerfield said.
"It's about getting on our bike and being successful again quickly.
"It's a hard message sometimes to drill into younger players that are first starting out because I remember being in a room with (former Adelaide star) Simon Goodwin.
"He said, 'Enjoy the ride and make sure you're impatient because it just races', and this is year 12 for me and all of sudden the mortality of it ending eventually is a reality.
"It's important that our younger players aren't patient, they're not waiting for an opportunity. They've got to earn it and that happens now.
"Spots are up for grabs, you put your hand up by training your backside off, executing and forcing the coaches to pick you."
The superstar midfielder is amazingly yet to feature in the big dance after having played in one losing preliminary final for Adelaide in 2012 and two for Geelong in 2016 and 2017.
It was a Goodwin-coached Demons side who knocked Geelong out of the 2018 finals, their earliest finish to a season since 2015.
Geelong's off-season recruiting has been strong, as eight potential debutants could be selected in 2019 for the Cats to help push the senior players.
Despite Tim Kelly's request to join West Coast in the off-season being denied, Dangerfield says the club is still encouraging the second-year player to reach new heights in 2019.
"He's a pro, Tim. He understood the situation and I think he's handled himself really well," Dangerfield said.
"We had our (medical) screening day yesterday and everyone was glad to see him again.
"We expect him, and he expects himself, to go to another level again and we have to make sure we can provide the environment to do that."