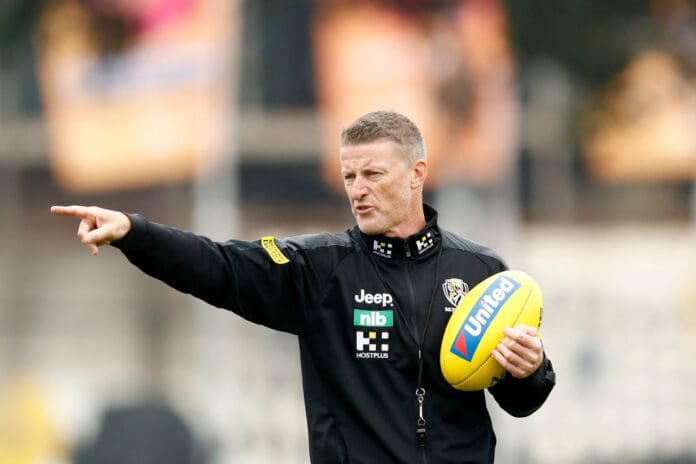 Damien Hardwick will hit a milestone when his Tigers run out to face Collingwood on Friday night, coaching his 300th AFL game.
Hardwick has been at the helm of the Tigers since the 2010 AFL season, taking over the struggling club after Terry Wallace resigned in the 2009 season.
The three-time premiership coach becomes just the 16th coach in AFL/VFL history to reach the 300 milestone, heading into Round 3 with a winning percentage of 57.19%.
Speaking ahead of the Friday night blockbuster, Hardwick said it was an "honour" to join the 300 club, thanking those around him for the support throughout his career.
"It's a great honour (to reach 300) especially to be a part of this great club," Hardwick said to media.
"It's just a reward for you know, everyone in our organisation really. I've been very, very fortunate to work with some great people, work with some great players.
"To think about probably the bravery that Peggy and Brendon showed when things weren't going so well in 2016.
"I'm forever indebted to those people in particular, but I think it's a measure of a successful organisation they back their people in and I'm very fortunate to be a part of it."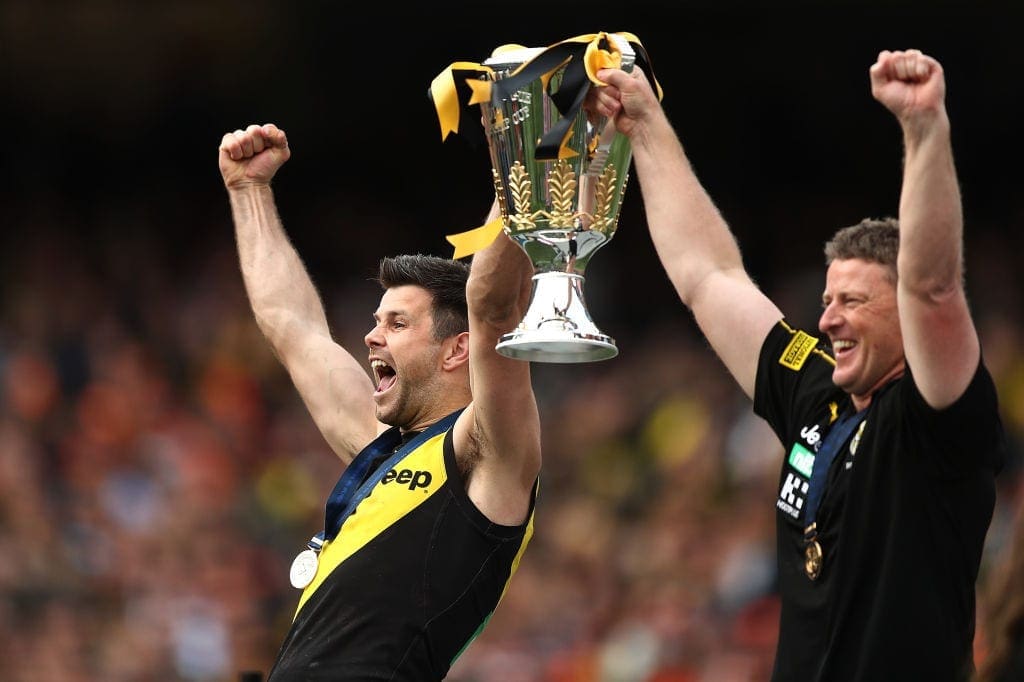 Having coached the club to premiership victories in 2017, 2019 and 2020, Hardwick is still looking to improve as he embarks on his 14th season in charge. Despite his years spent in the job, Hardwick isn't looking at giving it up anytime soon, conceding he will depart when he feels like he can no longer improve.
"Part of my challenge and the challenge of coaching full stop is you're cooking your sausages in different ways to use, I think, an Allan Jeans (coach) analogy," Hardwick said.
"One of the things I pride myself and our club on is consistently improving in certain facets of our development.
"The reality is as soon as I stop improving, that's probably the time that I leave so that's a challenge that everyone in our footy club is charged with.
"It's something I do reasonably well. "
Heading into Round 3 with one win and one draw on the board, the Tigers will take on Collingwood at the MCG on Friday night, with play scheduled for 7:50pm (AEDT).