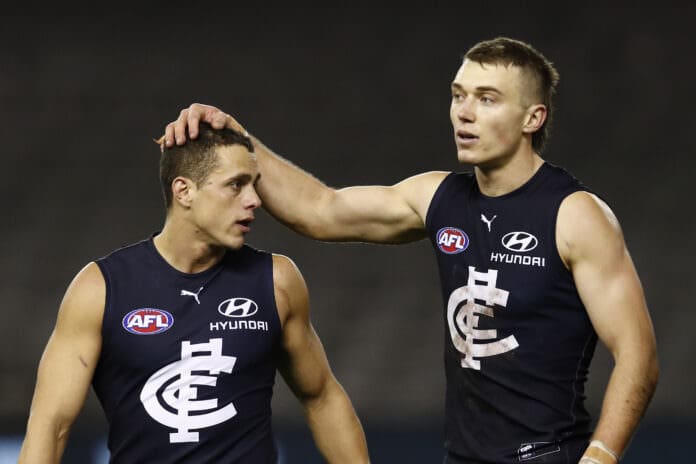 Carlton skipper Patrick Cripps is sick and tired of the constant speculation and talk about his body.
Cripps has seen his on-field output drop away in the last two years with shoulder and back issues a running narrative. Perhaps a victim of his own standards, the 26-year-old came under fire as the Blues underperformed severely in 2021.
A brilliant display against Melbourne in the Blues AAMI Community Series win was highlighted by four goals. It was a vintage Cripps display that caught the eye of the footy world.
Speaking to Zero Hanger, Cripps said he was ready to leave the chat to others as he looks to recapture his best form and take the Blues to finals for the first time since 2013.
"(I've been asked) about a million times in the last two years," Cripps said.
"I've had a good pre-season so I'm sick of talking about it and just want to get out there and play footy and let other people chat about that.
"We have done a lot of hard work, but we are under no illusions."
Carlton will be buoyed by the return of former co-captain Sam Docherty who has been named for Round 1 despite undergoing chemotherapy over the summer.
The resilient rebounder played a VFL practice match on the same day as Cripps dominated the Melbourne midfield, collecting 39 disposals of his own.
Docherty's former co-captain said that it was an inspiration to see how his close friend had overcome yet another hurdle.
"When you hear the news it was tough because when you've got someone that close to you, you don't know what's going to happen," Cripps said.
"Credit to him, he's a strong-minded person. As a club, we tried to do everything we could to support him and to see him back playing, you can't underestimate how relieved and happy he felt playing that game from where he's come from.
"I'm so pumped for him to get himself in a position to play Round 1 which you never would have dreamed of six months ago. He's a legend, it will be inspiring once we get him back."
With the loss of Liam Jones, Carlton has had to turn to a few new faces to help fill the void in defence. One of those players set to get a crack in the back six is former forward, Mitch McGovern.
The ex-Crow has fallen short of expectations since his arrival at Princes Park in 2019 but was another who shined in the pre-season hit out against the reigning premiers.
Cripps said he was thrilled for his teammate who has been under pressure since donning the navy blue jumper.
"I'm just happy for him because he's copped a lot of shit in the media," Cripps stated.
"To see him come out and play some good footy is good for his confidence as well."
Cripps, Docherty, McGovern and Carlton will commence their 2022 season when they face Richmond at the MCG on Thursday night.