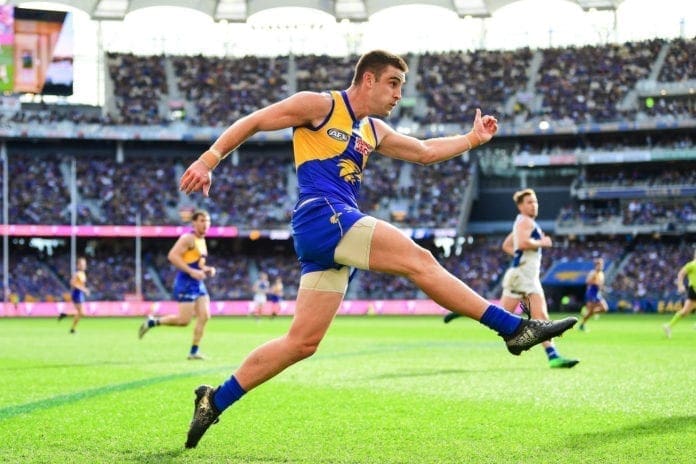 Kane Cornes has responded to Adam Simpson a day after the West Coast coach called out Cornes' "unfair" criticism regarding luckless midfielder Elliot Yeo.
Cornes made the comments on Channel 9's Footy Classified program after West Coast's 84-point Round 6 loss to Port Adelaide, where he labelled Yeo as "out of shape" during his two games for the Eagles this season.
In response, Simpson defended the premiership Eagle, reminding Cornes that the 28-year-old had been sidelined for much of the last two seasons.
"To be honest I haven't read anything that Kane Cornes has written or heard anything he's said, so irrelevant is what comes to my mind about what his opinion is," Simpson said to reporters on Thursday.
"Elliot Yeo has not played football for the last two-and-a-half years, really. He's had osteitis (pubis), he had a calf injury, he got knocked out at the start of the second quarter, he's played two games this year.
"I think that's a little bit unfair if that's the criticism on him. He's played 12-13 games in the last 40. He's working really hard. I'll back him and it's still irrelevant."
Cornes responded on SEN Breakfast, doubling down on his stance.
"The best coaches support their player, so no issue with Adam Simpson doing that. But my response to that would be perhaps he's missed so much football because he hasn't prepared himself," Cornes said.
"Maybe you are less likely to get osteitis pubis if you're carrying less weight and you're putting less pressure on your body. Perhaps as you get older, you need to trim down a little bit and lose that weight. I think there would be a case to make with that.
"The second point is, just because you've missed footy, it doesn't excuse you from what you eat and I'm sure he can ride a bike and have non weight bearing aerobic activity that can keep him in shape.
"I just reflect on my own experiences and the best high performance managers I played under and they were so strict on skinfolds and diet and one of them was Darren Burgess. It's not surprising that Taylor Walker, who hadn't played in eight months, has come back looking as fit as you've ever seen and he's kicked 12 goals in three weeks.
"Are we too scared to question the way players look? Because in America, this is how they talk about their athletes. Bill Simmons hosts the most popular sports podcast in the world, Zion Williamson is the first (NBA) draft pick from a few years ago and he's called him fat.
"I'm not saying we go down that path, but if you're a full time professional athlete, I think we have the responsibility, and fans do as well, to call it out. And I don't think Elliot Yeo is in shape, that was my point."
The Eagles have been hit hard by Covid infections across the last two months, with 23 listed players testing positive to the virus.
Simpson defended the club's overall fitness, revealing that injuries and covid infections had taken their toll on the club.
"Going into pre-season for us, we were really happy with our fitness. I think we had 17 PBs (personal bests) in our time trials and we were in really good shape," Simpson said.
"We've had 20-plus injuries since then and 23 players have had Covid and we're working really hard to get that fitness back. Absolutely, I can understand the criticism but we're working really hard to get as fit as we can and as healthy as we can."