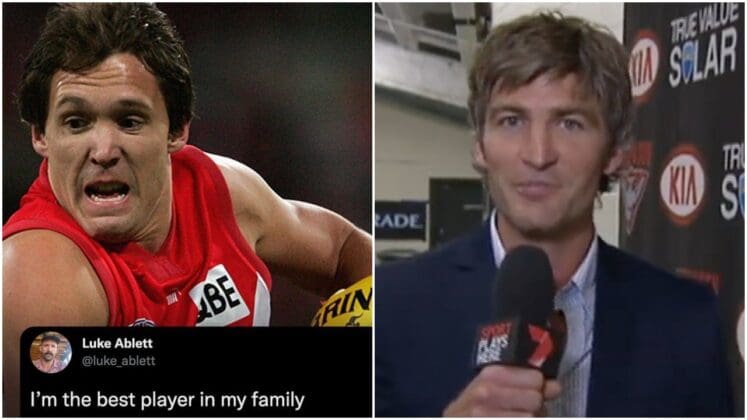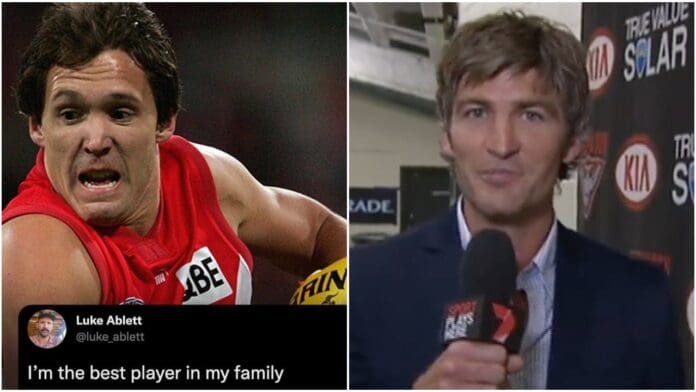 It is that time of the week again where we delve into all things footy and social media.
Here's what happened this week in the AFL.
What's your most cancellable footy take? 
This week on Twitter, we set out to find out what other people think their most cancellable footy takes were and boy oh boy we were not disappointed. We found some to be quite the laugh and others just plain weird, but we'll let you decide which is which...
I'm the best player in my family https://t.co/l0GZXeTfZr

— Luke Ablett (@luke_ablett) April 7, 2022
Any food outside of chips, hot dogs & meat pies doesn't belong at the footy

— Jacob Collins (@jacob_collins77) April 7, 2022
Meat pies at the footy are better with sauce AND mustard

— Simon Wallace (@rfcswallace) April 7, 2022
Marvel Stadium = 🐐stadium. https://t.co/pU79MAP0e6

— Andrew (@andrew_54) April 7, 2022
Ben Brown is better than Jason Dunstall https://t.co/UldyKlZyUC

— Michael (@MWL152) April 7, 2022
Sitting on level 4 is better than sitting on level 1. Can see the game from a better angle

— James Strebinos (@James_Strebinos) April 7, 2022
AFLW grand final week
Saturday will see the Adelaide Crows and Melbourne Demons go head-to-head in the AFLW Grand Final. We're super excited to watch the showdown between Tayla Harris (Melbourne) and Chelsea Randall (Adelaide), who will be locking horns for the third time.
We can't wait to cheer on the girls and it seems like others agree!
Hands up if you're headed to an NAB AFLW Grand Final! ✈️ #HellYeah pic.twitter.com/3F3u5sSD4G

— Melbourne AFLW (@MelbourneAFLW) April 8, 2022
Job number one for today ticked off - tickets booked for this saturday's aflw grand final ☺️

— Ellie 🦢🥦🏳️‍⚧️ (@eilonwyannette) April 7, 2022
Jessica Mauboy. Tomorrow at the AFLW Grand Final.

See you there. pic.twitter.com/5uMkGxXvIo

— Peter Malinauskas (@PMalinauskasMP) April 8, 2022
Port sees first-ever goalless half 
Port Adelaide hasn't had a great start to the season, having lost all four rounds in their opening month, although Thursday night's game against Melbourne might have topped it all off for the club. It was a history-making night, but not in a good way, seeing Port go their first half without scoring a goal.
Port great Kane Cornes said he thought that "this has been the most disappointing first half of footy in the club's history", with the online commentary agreed.
Can you sack a coach at half time? Is that allowed?

— Cameron Hitchcock (@CHitchcock2) April 7, 2022
As someone with no real goals, I relate to Port Adelaide. #AFLPortDees

— Scott Dooley (@scottdools) April 7, 2022
The anniversary of Brett Kirk's famous speech
Thursday saw ten years to the day since Brett Kirk's famous television ramble.
To paint some context, it was Kirk's first commentating gig, and wow did he make the most of it. After being passed the mic, Kirk delved into a one-minute speech about how "unique" the commentating team was and just how much they really do "care", something no other commentator has done (we wonder why 🤣).
It was been ten years and social media still cannot wrap its head around that one day back in 2012.
Legendary. Still don't understand it however though. https://t.co/thS33DvYm8

— Samuel Power (@SamuelPower68) April 7, 2022
10 years on & still nothing #thanksbasil #afl pic.twitter.com/8wu4OHkaHj

— Josh Garlepp (@JoshGarlepp) April 7, 2022
The greatest moment in #AFL history https://t.co/hNKbgtxdKO

— Tas Mavridis (@Tas_Mavridis) April 7, 2022
Darcy Moore re-signs with Collingwood 
Magpies star Darcy Moore re-signed with Collingwood for a further six years in what was exciting news for Pies fans. Tipped to be the next Collingwood captain, the deal saw Moore extend his stay at the club until 2028 and the fans couldn't be happier.
I was having a not so good Thursday.
Now I am having a very good Thursday. 🥺😍 https://t.co/KnDYoyFlya

— Chantelle Louise (@Channy_Lou89) April 7, 2022
This has made me so so so HAPPY 💓 https://t.co/tTQicqdEcK

— megan (@megannshae) April 7, 2022