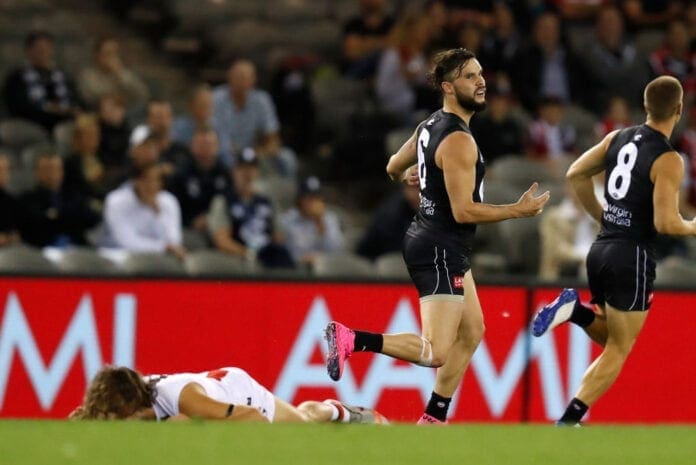 Legislators at AFL House are being called on to amend the pre-season programs of competing clubs in an effort to help curb the rise of recorded concussion cases.
Such requests, put forth by concussion crusader and pioneering player manager Peter Jess, come in the wake of a 15 per cent spike in cases between the commencement of the 2021  and the cessation of the 2022 AFL seasons.
According to research reported by News Corp, from New Year's Day until the close of the most recent season in September, 121 separate concussions were recorded - up from 103 in 2021.
While the lion's share was recorded during the rough and tumble of the regular season, a number were also chalked up during pre-season contact drills gone wrong.
Although mandatory 12-day waiting periods following recorded cases have played a role in allowing afflicted players to recover rather than be rushed back, Jess stressed that a chance to dial back pre-season collision courses would add further aid.
"The fundamental question is do we accept we want a dangerous game that accepts 120 brain traumas a year?" Jess said in conversation with The Herald Sun.
"The last three years we have seen a steady increase from 96 to 102 to 121.
"The doctors have the same diagnostic techniques so there are more concussions.
"We have to eliminate full-tackle training drills because we know repeated collisions cause issues. It's not just repeated head knocks, it is repeated collisions.
"You don't need to get hit in the head to have brain damage, it's the transfer of energy. When you have a stop-start motion your brain keeps moving forward.
"We need a clear target for the number of concussions and then we need to find ways to reduce it. Rather than only focusing on treatment, we need to focus on prevention and mitigation and we aren't doing enough".
Throughout the course of the 2022 season, 11 AFL-listed players recorded multiple concussions, with Bulldog Anthony Scott ruled out on three separate occasions.