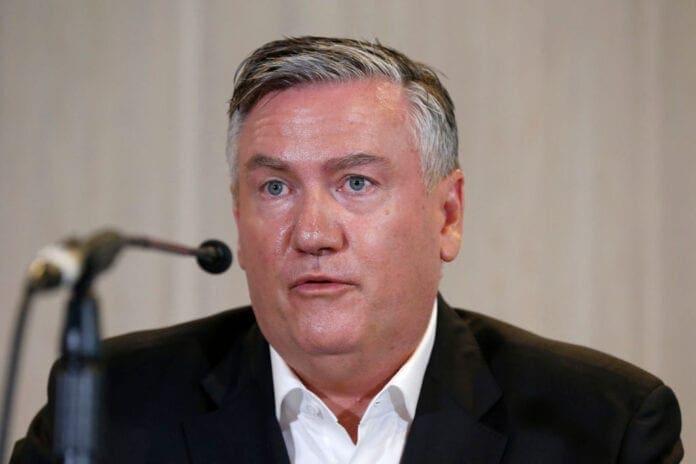 Eddie McGuire has stepped down as Collingwood president, effective immediately.
It comes amid the ugly fallout from last week's independent "Do Better" 35-page report that found Collingwood guilty of "systemic racism".
McGuire was set to leave his post at the end of the 2021 season, but has called time on his 22-year tenure with the club prematurely.
An emotional McGuire confirmed his departure during a press conference on Tuesday afternoon.
"Good afternoon everyone. I try my best and I don't always get it right, but I don't stop trying, but today effective immediately I step down from the presidency of the Collingwood Football Club."
"My sole motivation was to heal, unite and inspire the new social conscious not just into this club but into sport in general and build a place that would be an opportunity for all people."
McGuire explained that it was no longer "fair of tenable" for him to continue in his role after a tumultuous week.
"I don't think that is now either fair or tenable for the club or the community. People have latched on to my opening line last week and have become a lightning rod for vitriol."
"I leave knowing one thing for certain - in every endeavour, my heart has been true. Never, have I ever, turned my back on anyone who's asked for support."
McGuire said that Collingwood was "not racist a club", highlighting all its Indigenous initiatives, but apologised for any previous harm caused.
"This is why I say we are not a racist club," he said.
"We haven't always got it right and for that we are sorry."
He added: "I committed myself to making Collingwood the best place it could be".
"To our playing group, to our champions of Collingwood. I want them to have no distractions and have clear minds in representing the club, winning the flag and helping to fashion the club that we want.
"When I came to Collingwood, it was a club riven with rivalries, enemies and division. It has not been the case in my time. So I do not want any of this cause rancour or factions. It is better to fast-track my leaving of the club from the end of the year to now.
"I love Australian Rules footy. I love – it is the most egalitarian of games. No matter the size, the shape or any other sub-set of life, he or she with the Sherrin is the most important person in the world when they have got it in their hands.
"I love my memories of Victoria Park – the first time ever, the first time in my life I felt part of a community. I love my memories of ... Victoria Park, I am going to say it again – the first time I felt part of any community. That feeling must stay and grow for a new wave of immigrants, first nations people and all Australians who love the ethos of our game."
The 56-year-old was first elected as the Magpies president at the end of the 1998 season, with the club winning one Grand Final and featuring in another five in that time.
One of the most polarising figures in AFL circles, McGuire will be remembered for transforming Collingwood into a powerhouse with world-class facilities, moving from Victoria Park to Olympic Park in 2004.