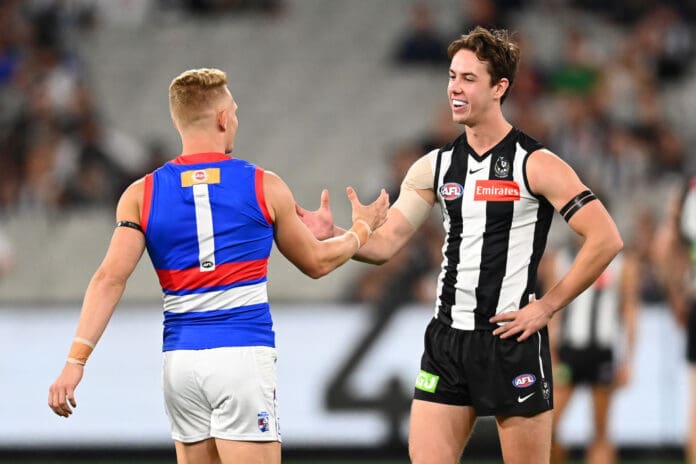 Collingwood have not offered contracts to four players, with Callum Brown, Tyler Brown, Isaac Chugg and Liam McMahon set to depart the club.
Callum and Tyler, sons of premiership player Gavin, joined the club in 2016 and 2017, respectively.
Callum managed 70 games across his time in black and white, but took to the field on only 6 occasions in 2022.
Tyler played 11 matches for the Pies this season, three of those as the unused medical sub. The 22-year-old dealt with an ongoing fatigue related illness for much of the year, limiting his game time.
Chugg managed just two games in black and white during his two years on the rookie list, both of those coming in 2022. McMahon meanwhile, departs the club without making his debut since being drafted in the 2020 national draft.
Collingwood's general manager of football, Graham Wright, thanked the quartet for their contribution to the club.
"Decision-making at this time of the year is always tough and we thank each of the players for their contribution to the Collingwood Football Club," Wright said.
"For Isaac and Liam, they are two players who have always done the team thing and we thank them for their dedication to our Club.
"Callum and Tyler – sons of premiership player Gavin Brown – we could not be prouder of their professionalism and the positive influence they have had on their peers during their time at the Club.
"Callum has had six years at the Club and has played 70 games while Tyler has spent five years at Collingwood playing 27 games.
"On behalf of everyone at the Club, we wish each player all the very best for their futures and we hope they continue to develop their games and work towards reaching their football potential.
"As Collingwood people, we will continue to support each player on and off the field."