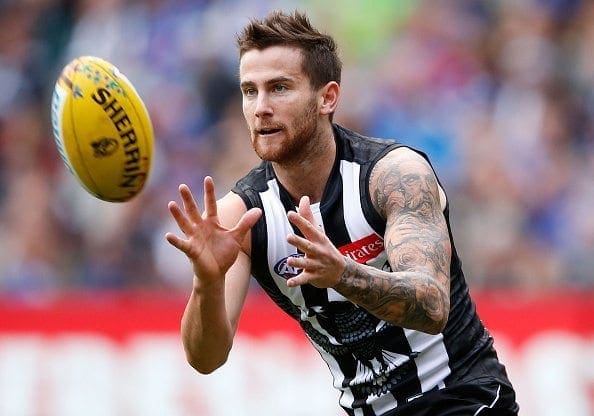 Collingwood has provided an update on injured stars Jeremy Howe, Jordan De Goey and Taylor Adams.
Collingwood will be without Howe (knee) and De Goey (broken nose, concussion) in Sunday's ANZAC Day match after the pair went down with injuries in Friday night's 27-point loss to West Coast.
Slumping to 1-4 after their latest defeat, the Pies are already without Adams (knee) and Jamie Elliott (leg) for a significant chunk of the season.
Magpies fans had their hearts in their mouth on Friday night as Howe clutched at the same leg he had knee surgery on following Round 5 last year to repair his PCL and MCL, which sidelined him for the rest of the season.
➖ Howe to miss 3-4 weeks with a hamstring
➖ De Goey out with concussion
➖ Positive news for Adams' return to play.

Full injury report ahead of round 6, presented by @AIAVitalityAU pic.twitter.com/83Atd3YoX6

— Collingwood FC (@CollingwoodFC) April 19, 2021
But the club has confirmed the defender is expected to miss three to four weeks with hamstring injury.
"The good news is that the scan didn't show any damage to the muscle itself. What he did was disrupted some of the scar tissue from his knee surgery last year," Collingwood Strength and Conditioning Manager Kevin White told the club's website.
"It has caused a little bit of bleeding so at the minute Howey is pretty sore and a timeline is hard to present this week. But hopefully we will be looking at that three to four week mark."
Hoping this one isn't as bad as it looks for Jeremy Howe 🤞

📝 BLOG: https://t.co/9oICyGejsb
📱 MATCH CENTRE: https://t.co/JdGU7yHfQh
📺 WATCH #AFLEaglesPies on @kayosports: https://t.co/DoKbXE8fD4 pic.twitter.com/sdHu0vn6R9

— Fox Footy (@FOXFOOTY) April 16, 2021
Meanwhile, under the AFL's new concussion protocols, De Goey will be sidelined for a minimum of 12 days and potentially longer.
SEE ALSO: Former Collingwood recruiter laments missing out on Tim English
De Goey in serious pain after copping it on the face 🤕

📝 BLOG: https://t.co/9oICyGvUjJ
📱 MATCH CENTRE: https://t.co/JdGU7yYQHP
📺 WATCH #AFLEaglesPies on @kayosports: https://t.co/DoKbXEpQuC pic.twitter.com/zgb4fnfpel

— Fox Footy (@FOXFOOTY) April 16, 2021
Adams was given an eight to 10-week recovery timeline and is on track to return on the shorter end of it.
"Tay's got better function this week, he's starting to load in the gym conservatively. Hopefully, he'll be be around that seven to eight week return to play as of now," White added.
Collingwood will hope to snap a three-game losing streak when they meet Essendon on ANZAC Day at the MCG next Sunday at 3.20pm AEST.