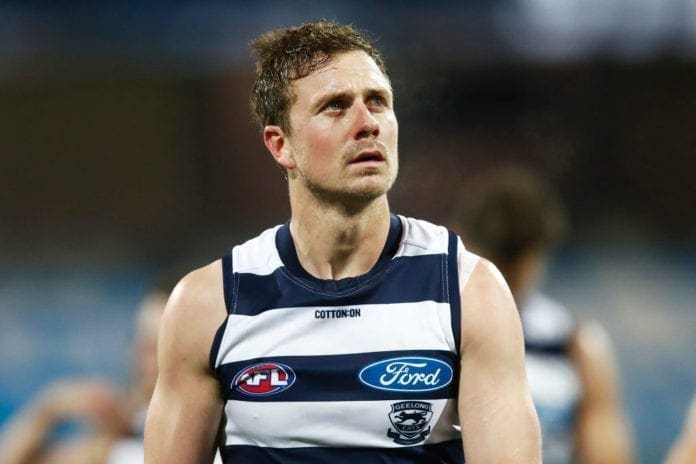 The AFL's Match Review Officer is set to assess a pair of incidents from two separate games following Saturday night's action, with GWS veteran Callan Ward and premiership Cat Mitch Duncan both likely landing on the radar.
An incident during the third term of the match between Geelong and Sydney involved Duncan landing a bump on Swans defender Robbie Fox as the pair contested for a loose ball.
Vision showed Fox had miscalculated the line of the ball and went past it, with Duncan bracing for impact as the pair made contact.
Fox was also lowered after approaching the ground ball, seeing Duncan's right arm make contact with Fox's head. Fox was able to play out the match.
The MRO will need to deem whether Duncan was contesting for the ball and will likely take into consideration Fox's trajectory and stance past the ball.
Speaking after the game, Geelong coach Chris Scott said Duncan has the right to protect himself.
"I'm not (concerned). I looked at it really closely," Scott said.
"It's almost impossible to do anything different than what he did when a player is coming at you at that speed.
Is Mitch Duncan in trouble for this?#AFLCatsSwans pic.twitter.com/kKX8ZgiEyr

— 7AFL (@7AFL) April 22, 2023
"I'm not saying Fox deliberately ran past the ball, but he ended up past the ball. Mitch has got to protect himself somehow."
Another incident from Saturday evening will also gain some level of scrutiny of the MRO, with a dangerous tackle by Giant Callan Ward on Brisbane's Lachie Neale set to come under the microscope.
In the final moments of the third quarter of the match at Manuka Oval, Neale collected possession of the ball before being met with a tackle from Ward, who looks to turn the Lions star in a tackle.
Both Neale and Ward fully rotate in the tackle before the pair go to ground, with Neale's head slamming into the turf.
Cal Ward takes Neale down with a dangerous tackle. Given the crackdown this year, is there anything in this?

📺 Watch #AFLGiantsLions LIVE on ch. 504 or stream on Kayo: https://t.co/c5Vwhmfd1e
✍️BLOG https://t.co/ps4EShLsvy
🔢 MATCH CENTRE https://t.co/6TzSiGj8Np pic.twitter.com/vWd7Hz3fC1

— Fox Footy (@FOXFOOTY) April 22, 2023
While Neale was able to play out the match, Ward could earn a charge for rough conduct due to the action of the tackle and the potential to cause injury.
The Match Review Officer's findings from Saturday's action are set to be made public on Sunday night.