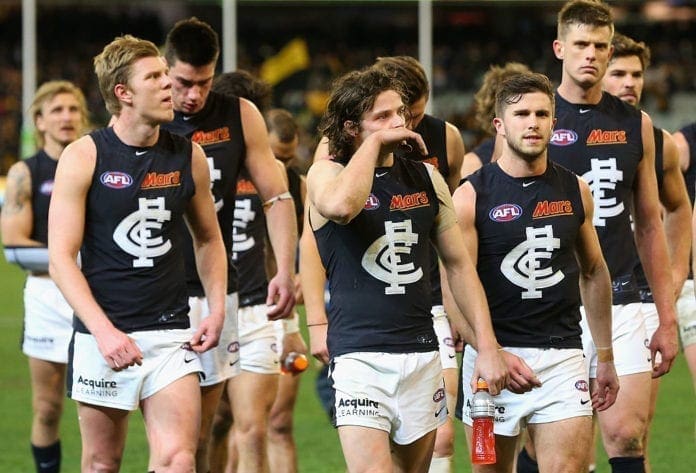 Five years on from Carlton's '66 game rebuild', journalist Caroline Wilson believes Carlton have 'stuffed it up'.
After sacking coach Mick Malthouse in 2015, the Blue overhauled their list in order to rebuild under list manager Stephen Silvagni, CEO Steven Trigg and coach Brendon Bolton. All three have since left Carlton.
"Boy didn't they stuff up," Wilson said on Sportsday.
"It's been five years, and they picked the wrong coach and that all fall apart last year.
"The players weren't scoring enough, the weren't winning games and Brendon Bolton was a very good assistant coach, but he was not the right choice as senior coach.
"Stephen Silvagni had a bitter falling out not only with the CEO, but with many members of his football department last year and I know they pointed to the fact that there was a conflict of interest with his boys [Jack and Ben] playing at the club, but there was more to it than that"
"Stephen Silvagni is now feeling pretty devastated about the way Carlton treated him and Carlton feeling like they had to get rid of Silvagni because it just wasn't working and he wasn't the right person to be rebuilding their list and they haven't looked like making finals since.
"They probably had the wrong CEO in place as well. They didn't handle his departure well at all"
"They have not been seen as an honest football club. I think there was a lot of acrimony in the footy department last year and I'm not just talking about the last days of Bolton."
Wilson believes the signs of Carlton future is looking bright.
"The signs are good now. I think the football department is a lot better, they've fixed up their women's program, but they set themselves back before they had any chance of moving forward in my view.
"They've got some brilliant players who have become champions in the last five years and obviously Patrick Cripps heads that list and he's become a wonderful captain of that football club.
"But I don't think anyone was even thinking of tipping Carlton to make finals this year."
11 first-round draft picks have gone Carlton's way since their rebuild began and the Blues will be hoping the players lead the way to lifting them off the bottom of the ladder.